Oppo has been releasing phones on a regular basis in the Indian market. After the launch of its R7 Plus and R7 Lite series phones, Oppo announced the F1 which is geared towards the younger generation. The Oppo F1 calls itself the 'Selfie Expert' thanks to the 8MP camera that graces the front.If a selfie stick never leaves your side, and your Instagram feed is filled with pictures of your own face, then a smartphone with an excellent front-facing camera will be high on your to-buy list. What was once a niche requirement is way more sought after today, and almost every smartphone will take decent selfies. Oppo says its new F1 phone is a selfie expert and its face-snapping abilities are the main reason to pick up the sleek device.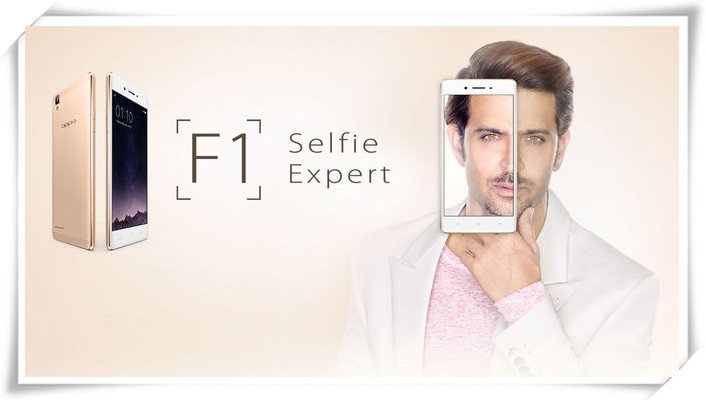 To transfer messges, contacts, music, photo, video from old Andiod or iOS devices to the new OPPO F1/F1 Plus, there could be many ways. And this article will show you the easiest ones.
Part 1: How to Transfer Data to OPPO F1/F1 Plus for Free
Step 1 : Install and Run Samsung Mobile Manager
Connect your Old phone (Android or iOS devices) to your computer and launch the Syncios OPPO Manager. You will see the main screen shows connecting devices is required. Turn on the USB debugging mode on OPPO F1/F1 Plus, after your OPPO deivce is successfully detected, you can see: Apps, Contact, SMS, Media, Photos on the left list.
Note: iOS devices will have different list concludes: Media, Photos, Ebook, Apps and Information. Learn More>>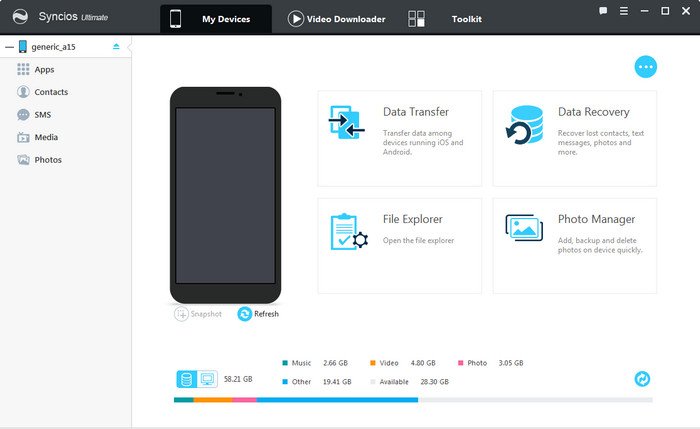 Step 2 : Transfer Contents from PC to OPPO F1/F1 Plus
Then you can choose contents to backup to PC via clicking different button. For example, you want to sync your photos to OPPO F1/F1 Plus. Then you can click Photos, choose the photos you want to sync and press "Export" button to transfer your music from old phone to PC. Unplug your old Anroid or iOS device, get your new OPPO F1/F1 Plus connected, click "Import" to transfer all the music to your new OPPO Phone. You can also directly import muscic, videos, photos, from PC to your OPPO F1/F1 Plus via this free OPPO manager.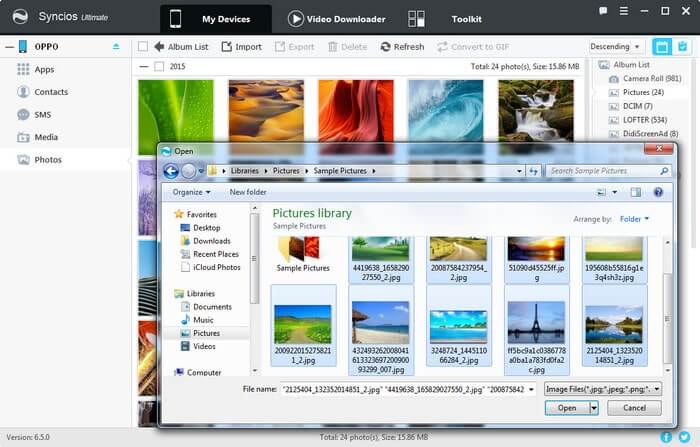 Pros: Free, supports PC to device transferring, handy tools.

Cons: No Android one-click backup/restore, no phone-to-phone transfer.
Note: This OPPO manager can help you backup your phone data to PC, then restore to OPPO F1/F1 Plus. However, it needs a few steps and supports limited contents. We recommend you use Syncios OPPO Data Transfer to directly transfer data from old phone to OPPO F1/F1 Plus.
---
Part 2: How to Transfer Data to OPPO F1/F1 Plus by One Click
The One-Click Data Transfer tool works for both Androif & iOS devices. Follow these quick steps to transfer your data safely and easily, including contacts, messages, call history, photos, videos, songs, bookmarks and so on.
Step 1 : Install and Run OPPO Data Transfer
Connect your both your old phone and OPPO F1/F1 Plus to your computer and launch the Syncios OPPO Data Transfer. You will see the main screen shows connecting devices is required. There are 3 modes: Transfer, Backup, Restore. Click the "Transfer" mode. Then it would display the the backup list.
This iOS & Android data transfer tool works on Windows and Mac OSX with good support for the latest version, you can choose the right version according to your computer OS.
It will be just a second before the program recognize them. Make sure your target phone is on the left side while OPPO F1/F1 Plus on the right. If not, click "Flip" to exchange the source device and target device.
On the middle panel, check data (contacts, text messages, call logs, photos, music, videos, apps, calendars, bookmarks) to transfer from old phone to new OPPO F1/F1 Plus as your will. Press the blue button "Next" and the details will be shown in the interface. After a while, all of conetent will be saved on your OPPO F1/F1 Plus.
By these two handy OPPO backup tools, you can easily transfer your old phone data to your new OPPO F1 or F1 plus.