How to Backup and Restore Huawei Honor 20
Huawei Honor View 20 has been the standout phone in 2018 while Huawei Honor 20 and Huawei Honor 20 Pro is chasing the pace of Huawei's possible innovation to be slightly more muted design than the company's past phones. Despite much more improvement Huawei made to the smart phone, the need to how to backup and restore the data on the phone is always valued by the user. Then for the Huawei Honor 20, follow me the get the tricks and tips for better managing your new lover.
---
Part 1:Backup and Restore Huawei Honor 20 with Google Drive
Google Drive is one of the most popular clod storage solutions. It offers every Android user the opportunity to backup data on the phone to its remote server for free. It is a really handy service that allow you to back up your smartphone and access your files from anywhere around the world. Here's how Google drive is used to transfer your smartphones data to online server.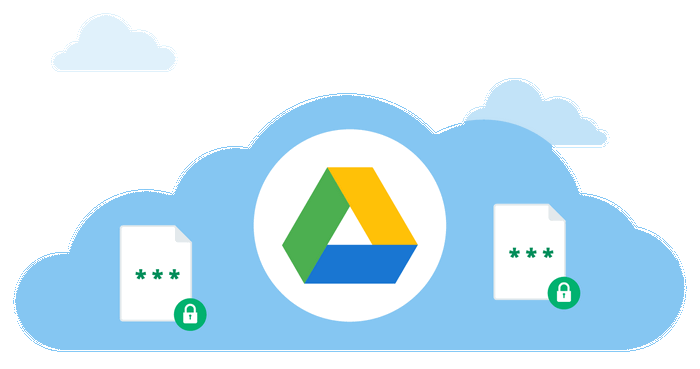 Step 1 Tap on menu icon and navigate through the options and find "Settings" and tap on it once. Alternatively, you can swipe down from the top of the screen and click on the little gear icon to open settings.
Step 2 Go to "Backup and Restore" and tap on it.
Step 3 Check the Back up my data checkbox, select Backup account, set your backup account.
Step 4 Return to the Settings menu and scroll to and select Google. Select your account, select the Menu button, click Sync Now. All the contents you chose will be synchronized to Google Drive.
Step 5 Click on "Restore" and you will be prompted to enter your Google account details. Make sure to input the same email account that you used to login from the beginning on your phone.
Step 6 Find the recent backup file and tap on it once.
Step 7 Click on "Restore" and let the phone finish the operation. You will see a notification that will say "Restore Completed". Now restart the phone and you should be able to see all the deleted files.
---
Part 2: Backup and Restore Huawei Honor 20 Selectively for Free
Syncios Android Manager, a smartphone manager compatible both with iOS and Android phone is allowed to manage your Contacts, Apps, Photos, SMS, Notes and Bookmarks on your phone at your hand. 1-Click Backup and 1-Click Restore feature are built in Syncios Android Manager that can seamlessly migrate data including the iPhone contacts, messages, music and photos to Huawei Honor 20.
Step 1 Download and install the latest version of Syncios Android Manager on your PC.
Step 2 Connect Huawei Honor 20 to SyncDroid Manager via USB cable.Turn on USB debugging mode on your Huawei Honor 20. Upon successfully connected, look at the panel on the left where you can manage the options like Apps, Contacts, SMS, Media ( Music and Video ), Photos accordingly.
Step 3 Respectively click on the options for a detailed management. Here take the Contacts for example. Click on Contacts and SyncDroid will automatically show the details of the contacts. By kicking the name of the contact to add more details on the target.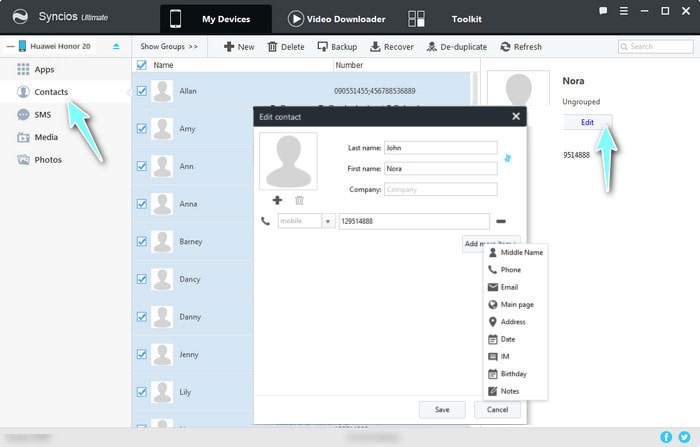 Step 4 Button Backup to migrate the contacs to PC. Syncios Android Manager enables you to freely backup important files without data loss. Choose the contacts files >>> Click on Backup >>> Set up folder for backup files on Computers >>> Launch backup.
Step 5 If you want to track back someone's contact, you can click on Recovery to send the contacts on PC to your phone. In no case of overwritten data on your phone, key De-duplicate can be used to clear out the repeated ones. Click on Recovery >>> Choose the backup folder of contacts >>> Click on OK to launch recovery.
Note When the backup file is stored on the computer, the format of the file should be noted. Open it on your computer with the corresponding tool.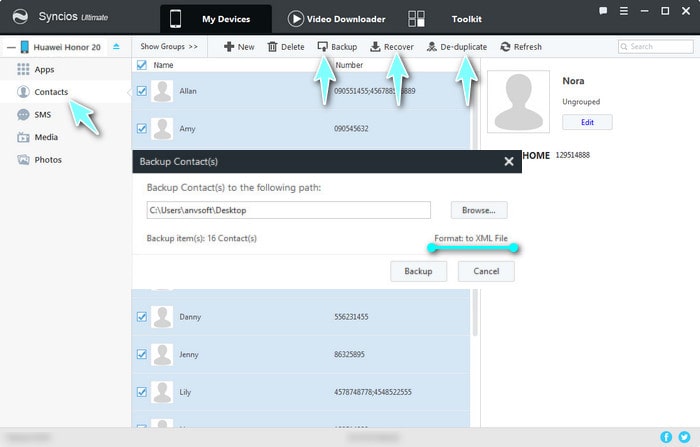 End If you are going to sort out other functional folders like photos or SMS, similar steps of Contacts go to other items management. Backup, Recover, Delete and Edit are easily to pick up. For more detailed product tutorial, you can refer to Syncios Android Featured Topics.
---
Part 3: 1-Click Backup and Restore Huawei Honor 20
In part 2, we have mentioned how to selectively back up the items to computer like Music, Photos and SMS. However, a user-friendly toolkit is designed to back up and restore all the data to Huawei Honor 20 in one click.
At the absence of professional storage for backup like iTunes, Huawei Honor 20 can sync the data with assistance of 1-Click Backup on Syncios Android Manager swiftly.
Step 1 Connect the Huawei Honor to Syncios Android Manager
Step 2 Click on Toolkit to directly arrive the button 1-Click Backup before popping up One Key Backup to guide you to select the data you need to backup. Unfold Information by clicking on the plus icon + to see the detailed sorts of the files. And then kick on Start Backup. Data selected will be stored to your PC.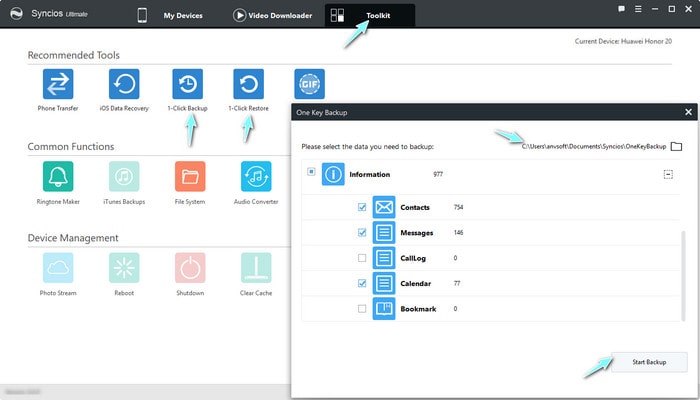 Step 3 Finishing the One-key Backup, you now know how to operate the function of 1- Click Restore. By clicking on the button and then to enter the One key Recovery, you are guided to choose the data you need to recover. Here you can click on Other Backup to get access to the path of your Huawei Honor 20 Backup folder.
Step 4 Click on Next to select the data you need to retrieve, there are as well Media, Photos, Messages and Information offered to kick on.
Step 5 Start Recover to proceed the job and it takes seconds or minutes to complete it depending the size of the files.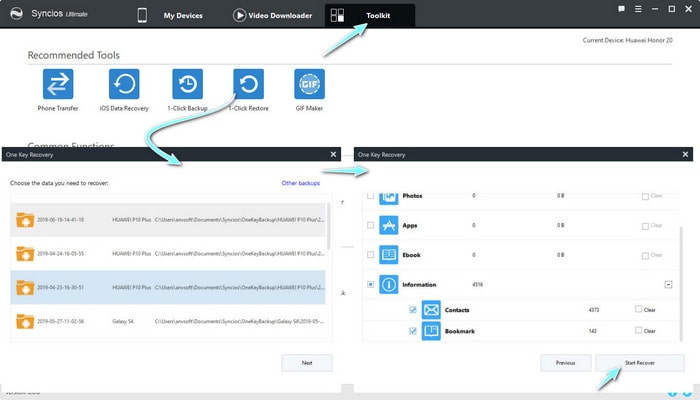 ---
More to learn: Transfer Data from iPhones/ Android to Huawei Honor 20
What if you are a new Android user that this is your first time to use Huawei Honor 20 and you are going to transfer the data on your old iPhone to Huawei Honor 20. Never mind. Syncios Data Transfer is born as expert at data migration.
Step 1 Download and install Syncios Data Transfer on PC.
Download
Win Version Download
Mac Version
Step 2 Start from Mode Transfer to launch phone to phone data transfer.
Step 3 Connect the iPhone/ Android phone and Huawei Honor 20 to Syncios Data Transfer. Android phone/ iPhone displays on the left and Huawei Honor 20 on the right. Button Flip to correct the position.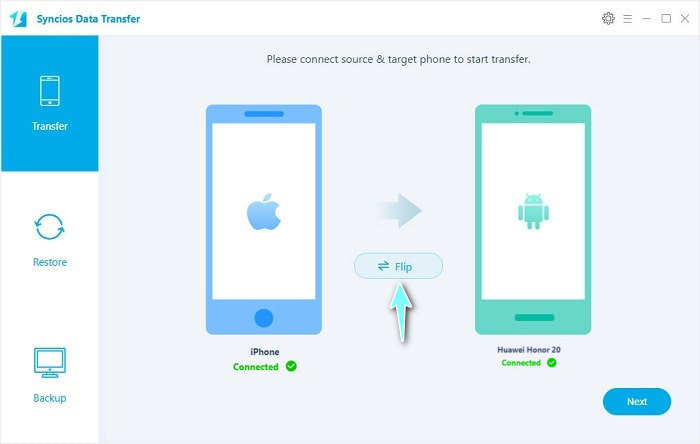 Step 4 Click Next to select the items like Messages, Photos, Contacts and Audio to transfer to Huawei Honor 20.
Step 5 Click on Next to start the items migration until completely finish.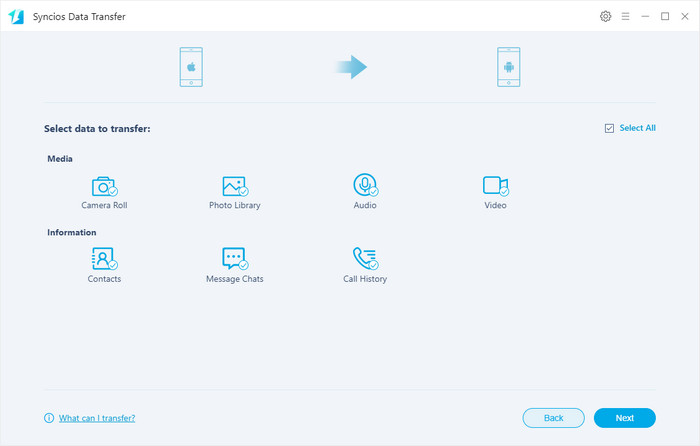 Good Stuff
iOS and Android inclusive
Smooth Operation and Fast performance
Pretty display
---
Related Articles: