How to Import Music into OnePlus 8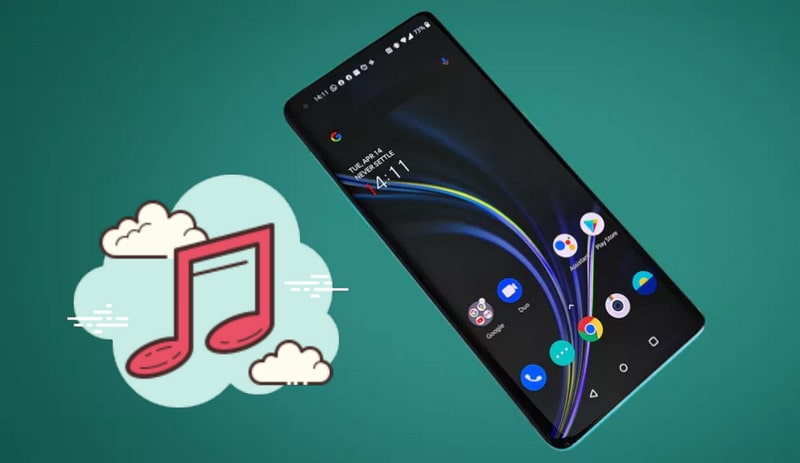 Before OnePlus 8/8 Pro come out, what is your expect to it? And how about the performance of this year's OnePlus 8/8 Pro? It was all good, said Saumik Shah, a new comer of OnePlus. The OnePlus 8/8 Pro come with a 5G lead speed while it is sitll a shade cheaper than rival Samsung, Apple and Huawei smartphone. Saumik has switched phones with different types of brands. And for OnePlus, he is a rookie. When asked for the needs after buying a OnePlus 8, he said about issue to synchronize music on other platforms. This is surely a frequently asked question by many people. So we today give you an all-sided tutorial on transferring music from various sources (computer, iPhone& Android, iPod Touch , iTunes Library, YouTube, and Spotify platform) to a new OnePlus 8/8 Pro. Now,let's just get start!
Part 1: Sync music on computer to OnePlus 8 ( Windows and Mac).
Syncios Android Manager is a free data manager for Androids and iPhones. You are convenient to sync and transfer data between phone and computer. Unlike iTunes to iPhone, Syncios Manager to Android gives Android users greater flexibility to preview the data and manage as expect. Data existing on your OnePlus 8 phone can manage on computer with a larger screen. Manageable functions include Export, Import, Delete, De-duplicate, Edit, Refresh. And there are more good tools like ringtone makers, one-click backup and one-click restore at hand.
Preview music files on Windows and Mac computer.
Easy export and import music between mobile phone and computer.
Customize music as ringtone and sync to phone
Free download online YouTube music for offline listening in lossless quality.
Step 1 Launch Syncios Android Manager on your laptop. Both Windows and Mac versions are well-supported for free.
Download
Win Version Download
Mac Version
Step 2 To connect OnePlus 8 to Syncios Android Manager, you will first enable the Debugging Mode on your phone. Then connect the phone to computer via USB cable when there will prompt up an instructions to install Syncios.Apk on the phone. Follow the guidance and simply complete the connection.
Step 3 On the left guidance, go to visit Media section. First to preview the music files already existing on your OnePluse8. To sync music on computer to the phone, tap the functional App button (Add Files or Add Folder), and choose the songs on local computer path. You can also directly drag and drop the songs into Syncios Android Manager immediately. It then Syncios will sync the selected music to your OnePlus 8 at a time.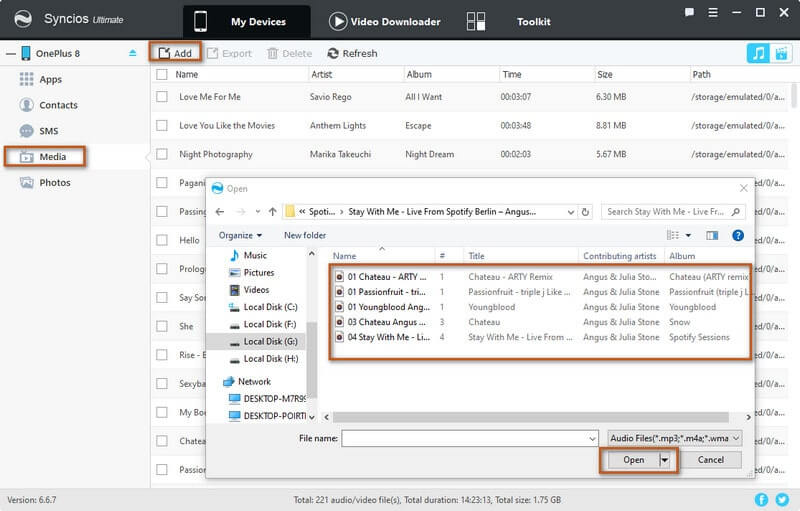 ---
Part 2: Transfer music on Android/iPhone to OnePlus 8
As usually, to transfer music from old to new phone is what a user will do after they change phones. Syncios Data Transfer offers a Phone-to-Phone transfer moderation. You can directly transfer data between 2 phones, whether it be iOS or Android phones. Like Miss Green, she can take this method to easily transfer the music for her previous iPhone or Android phone to OnePlus 8.
Step 1Run Syncios Data Transfer into Transfer mode. This is a Phone-to Phone Transfer pattern. You can randomly transfer data between iPhone and Android phone.
Download
Win Version Download
Mac Version
Step 2Connect one iPhone and the new OnePlus 8 to the computer port. Mind that Debugging mode and Syncios Apk installed on the Android phone. And keep both phones unlocked when transferring data.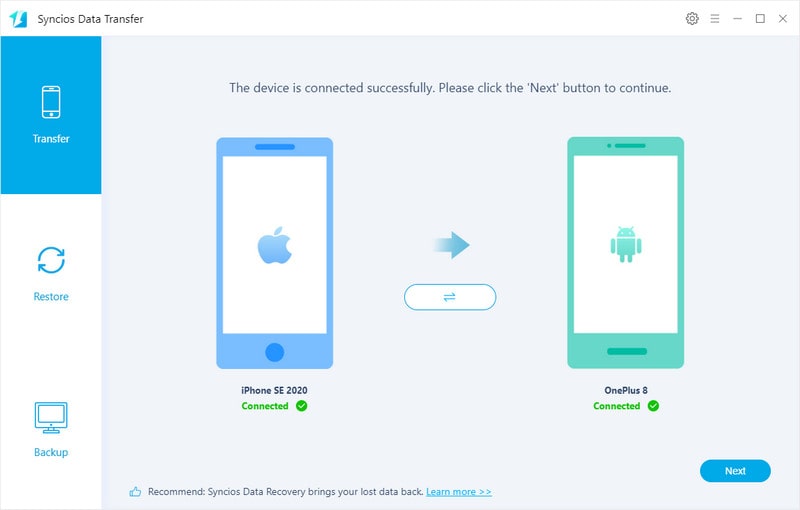 Step 3Now the step is to select Audio item to transfer. If you want to transfer any other from the iPhone SE 2020 to your OnePlus 8, you can tap on the box in front of the item like Contacts, messages, photos, video and more. Files supported to transfer between 2 phones is various.
Step 4Go to tap Next button to proceed the real transfer. Do take good care of your phones and disconnect both phones when it all done.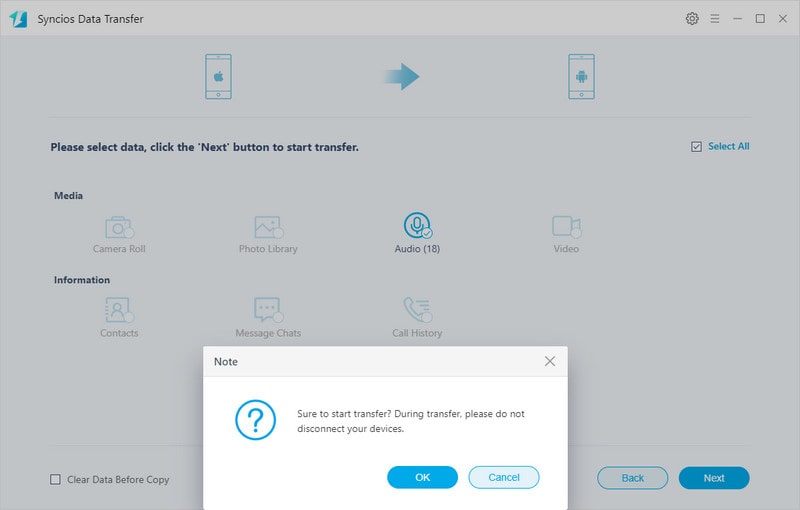 ---
Part 3: Copy music on iPod Touch to OnePlus 8
We know that iPod is a series designed for music and video sharing. It is especially targeted to iOS users. But if you are an iPod user switching to now an Android OnePlus 8 holder, you can learn how to easily copy the music on your iPod Touch to OnePlus 8 Here we take a way of Backup before Restore. Back up the iPod music to computer local collection and restore the backup to devices as before. You can use Syncios MobiTrans Free to back up the iPod music playlist to computer. By doing that, you will be able to restore the music playlist to any device you want, like OnePlus 8.
Step 1Download and install the Syncios MobiTrans Free on your computer. You can create backup folder on your computer in advance. A catchy name of the folder will be helpful to find out easier.
Download
Win Version Download
Mac Version
Step 2 Connect your iPod Touch (G1-G7) using USB cable and Syncios MobiTrans Free will recognize it as soon as you plug it to computer port.
Step 3 Navigate to Music part above the menu. Here Syncios lists all the music saved on your iPod Touch device. Before you do a backup, you can edit single songs by the cover, title, album, playlist. To backup, select the songs, then tap the Export button, choose a local folder on computer to store the backup files, and tap ok to let Syncios sync them to computer.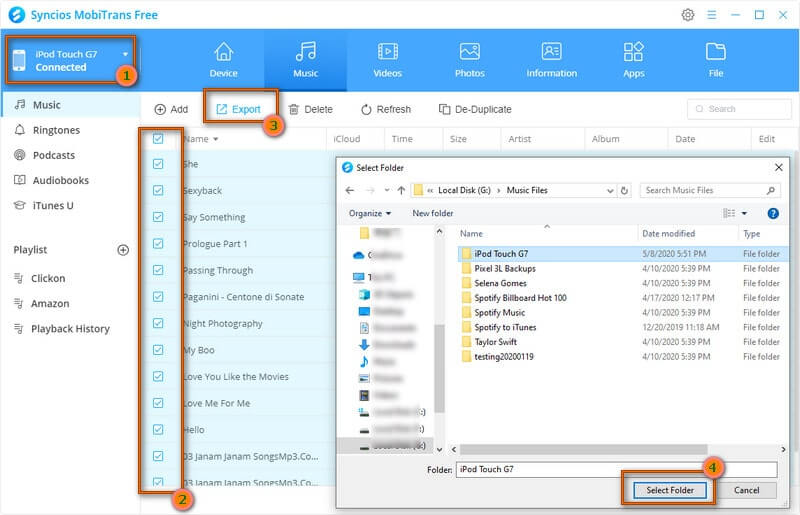 Step 4Now connect your OnePlus 8 to Syncios MobiTrans Free via USB cable or a Wifi connection. Do enable the debugging mode on any Android phone when connecting to a 3-party program. And follow the on-screen instruction on your OnePlus to complete the Syncios and OnePlus8 connection.
Step 5 Under OnePlus 8 management, the same go to visit Music part management. Now you are going to import the music files on computer to OnePlus 8. So tap on Import/Add button then reach the iPod backup files on computer, choose it as the target to restore from. Not a while, you can see all the previous iPod songs now in OnePlus 8 music collection.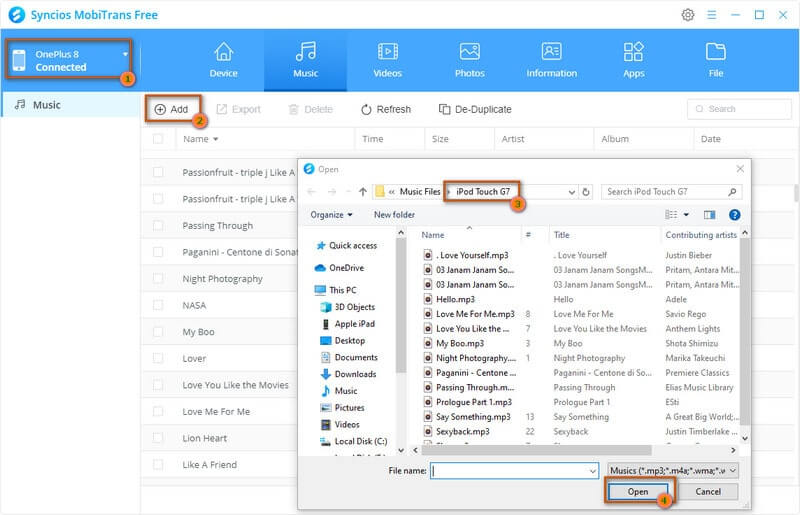 This is a simple way for people who want to reorganize the music files on computer platform. And it is easy to do a data backup and restore with one program. With Syncios MobiTrans Free, you can as well full preview your phone contacts, messages, photos, apps details. Importantly, it helps you sync data between the phone and computer.
---
Part 4: Move music in iTunes Library to OnePlus 8 without iTunes
With Part 2 and Part 3, we find some similarity. That is the Apple music transfer involved. When it comes to music in iPhone, iPad or iPod, people will choose iTunes as the tool to make it work. But if you want to directly transfer files in iTunes Library to an Android phone (in this case of OnePlus 8 ), iTunes is unable to support this feature. But if you have noticed a Restore function built-in Syncios Data Transfer on Part 2, which actually makes up iTunes' shortfall.
Step 1Run Syncios Data Transfer on your computer. Then jump to the Restore mode. 4 files sources are ready to restore from, including iCloud backup, iTunes Backup, iTunes Library and Syncios Backup. ( Files backed up via Syncios can restore to phone as before.)
Download
Win Version Download
Mac Version
Step 2 Directly connect your OnePlus 8 to Syncios with a USB cable. If you have enabled the debugging mode in your last using, do check it again.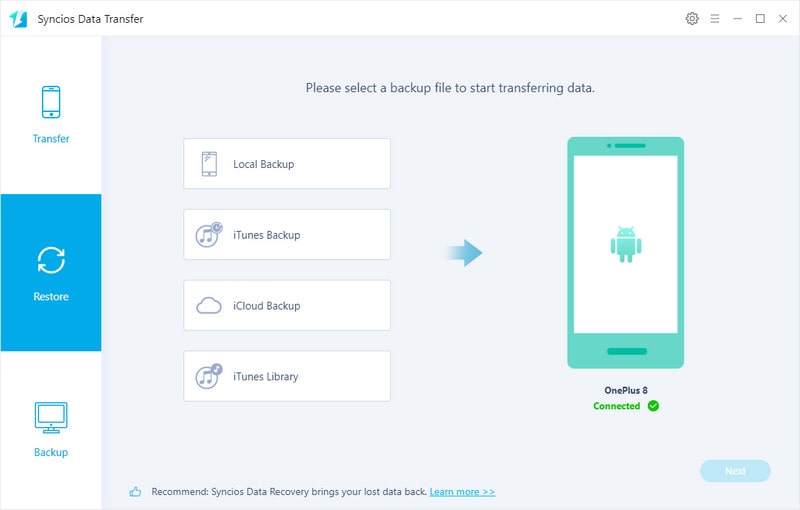 Step 3 Tap iTunes Library when it prompts a windows of your iTunes Library. Here you can find all the songs from your iTunes Library. Selectively choose your wanted songs to transfer by ticking off the box. You can preview the playlist by Title, Artist, Album and Song duration. If there are huge number of songs, you can type key something into the search box.
Step 4Now a final tap on OK, you then just wait for the process until it all settled down.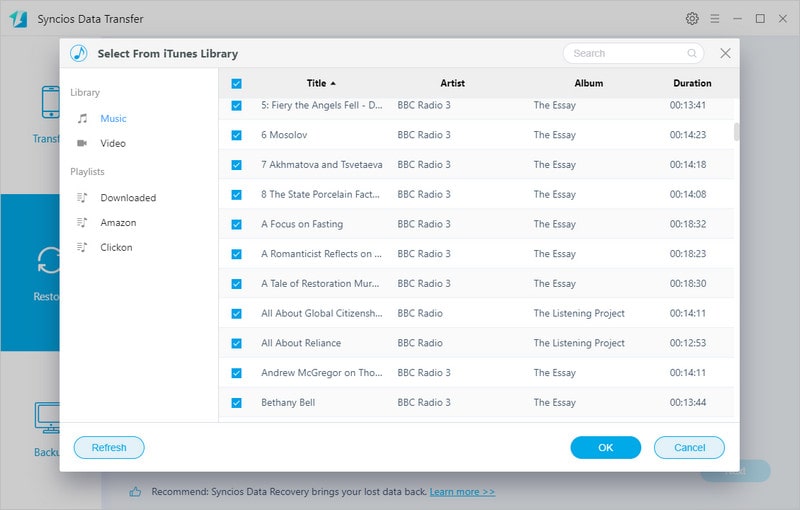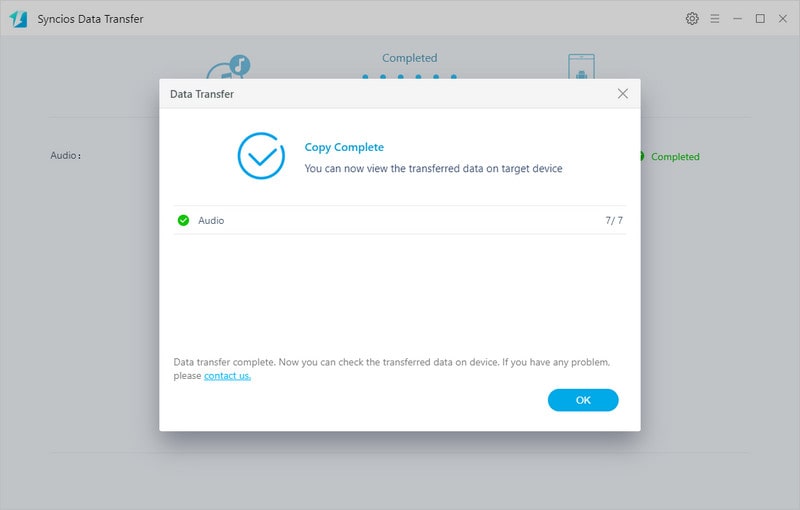 ---
Part 5. Download and Save YouTube Music to OnePlus 8
There must be some music from online website that you really want to share on a phone screen offline. And we will first choose YouTube channel. This part we show you how to simply download the latest YouTube video or YouTube music to an OnePlus 8. Just simple 3 steps! For instance, let's download the recent hit song Stuck with You by Ariana Grande & Justin Bieber from YouTube and save into OnePlus 8.
Step 1Launch Syncios Manager on your computer and go to YouTube Video Downloader windows.
Step 2Copy the YouTube special link form the website, and paste in the box. This is a step to prepared for link analysis.
Step 3Customize the output parameters of the YouTube video and YouTube music. Optional options cover Formats ( MP4, M4V, MOV), Video Size, Video quality (Low to High).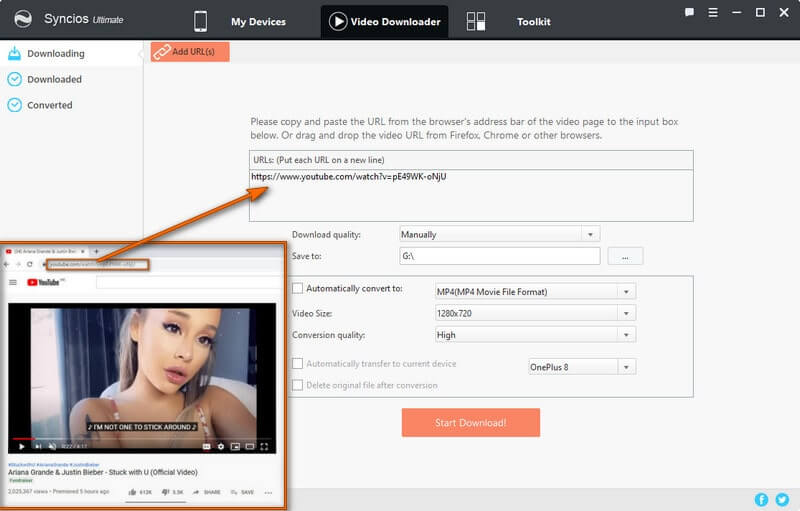 Step 4Then tap Start Download instruction, and wait the Syncios Video Downloader to analyze and download it successively. When it finished, check the YouTube video or music on your OnePlus 8 local media collection.
YouTube video and music downloaded by Syncios Manager is locally saved in your phone. Even though you switch off the mobile data, you can still play them offline all the time.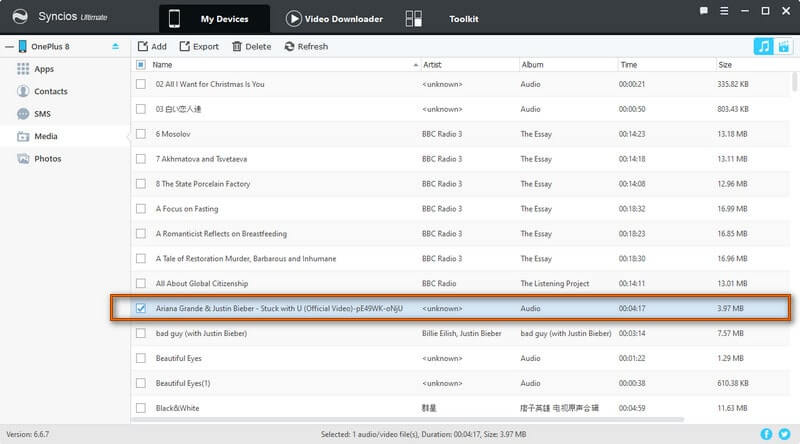 ---
Part 6. Convert and import Spotify music to OnePlus 8 (Lifetime Offline Playback)
Spotify music lines number one if you choose a platform to play stream music for free. It provided people free version with ad-supported, shuffle playback on the app. And if you want to get rid of these annoying limits, you can download them locally and play offline. Unlike Amazon, download to offline listen is a no-no for Spotify, so you need to try with another way.
Forever listen to Spotify offline can be achievable by TuneCable Spotify Music Downloader. This is a tool on converting Spotify music from digitized format to common formats like MP3, AAC, WAV or FLAC. Advantages include no need to be a subscribed Spotify, play your Spotify music without installing the app, diverse playing mode like single, order, circulated and shuffle, locally save spotify music to pc, phone and player, simply upload to cloud storage. And to import Spotify music into your OnePlus 8, let's first go into the download and convert process.
Step 1Download and install TuneCable Spotify Music on computer. For Apple computer user, take the Mac version of TuneCable below. After that, launch the program to start.
Download
Win Version Download
Mac Version
Step 2Run the Spotify app on your computer. Then navigate to your favorite songs or playlists. Click Share and Copy the playlist link.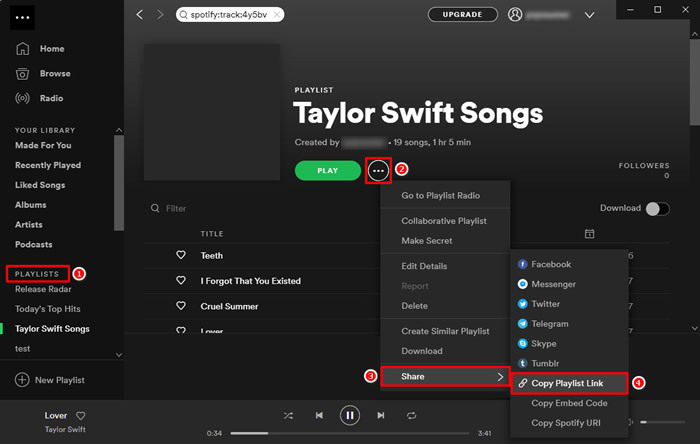 Step 3Turn back to TuneCable Spotify Music Downloader, pasted the playlist link into the box. Then it will analyze the playlists. When all the songs are extract from the Spotify, it means you are ready to convert.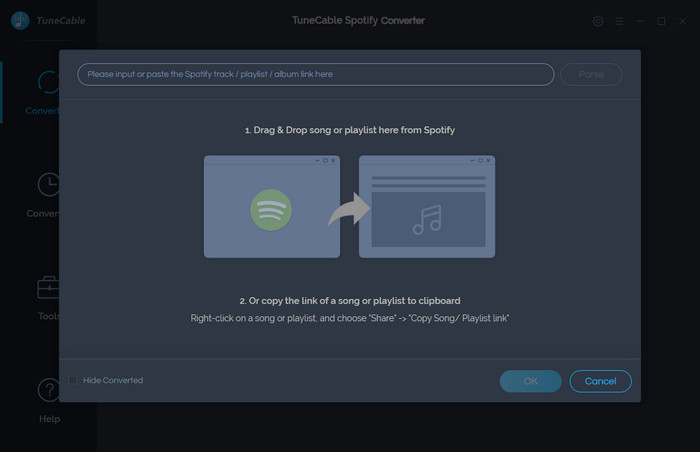 Step 4The conversion from Spotify to local music can be easy, depending on conversion setting. So go to the TuneCable setting and customize the conversion parameters like convert format, convert quality. And custom a folder to save the converted music on computer. If in need, you can self-define the name of the song ordered by album, artist, tile, track number.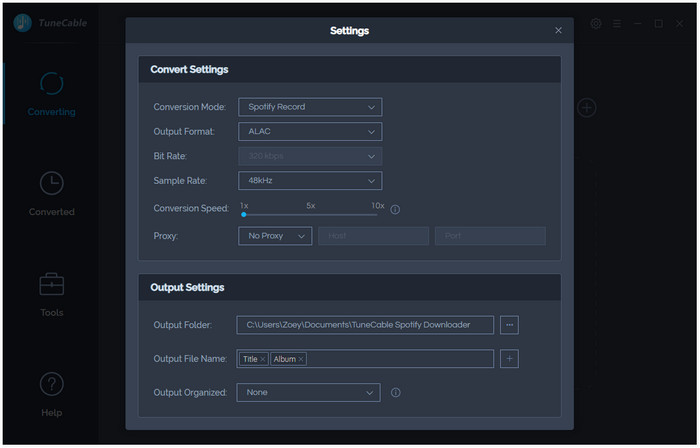 Step 5Instruct the Convert function and start the Spotify music downloading. Then all the songs will saved to the local folder you customize in the previous step.
Now, you can easy to locate the Spotify music on your computer. And to import them to OnePlus 8, you can refer to our Part 1: transfer music on computer to OnePlus 8. Just with Syncios Android Manager, you can make the Spotify sync to OnePlus 8 right away.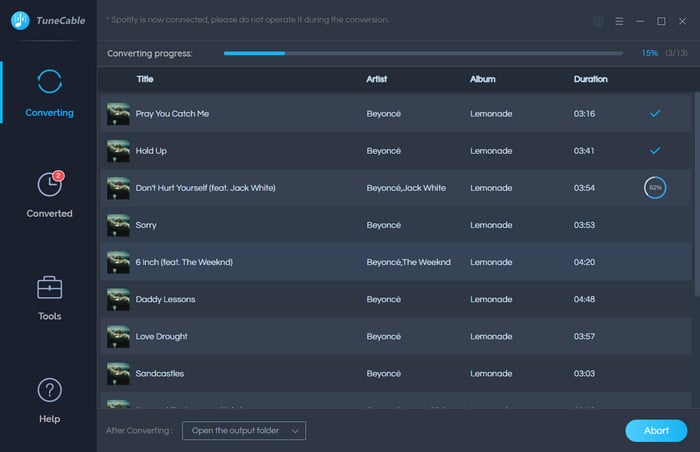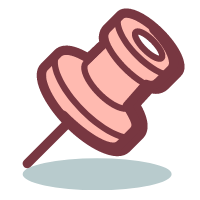 Summary: In this article, we explain you 6 different ways to import music to OnePlus 8 phone from computer, iPhone& Android, iPod Touch , iTunes Library, YouTube, and Spotify platform. For me personally, I am particularly interested in TuneCable Spotify Music Downloader that allows me to update music playlist at a zero cost. And what about you? If you want to add more useful tips on importing music to OnePlus 8, never mind sharing with us your music assitant!
---
Related Articles: