With the rapid development of mobile phones, most people now have more than one phone and they have different types of files, no matter messages, photos, music and other data on each device. However, this also gives rise to a complex situation wherein the data becomes scattered on different devices and you might need to compile it to one place i.e. to one device.
If you used Samsung Galaxy S or Note phone before and just purchased a new Huawei P40 or P40 Pro, how can you switch from old Samsung Galaxy to the new Huawei phone? To transfer everything from Samsung to Huawei without data loss, we recommend you two effective methods for Android to Android transfer.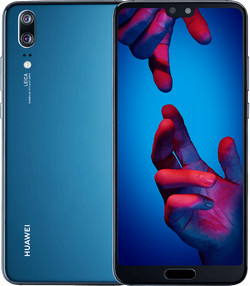 Solution 1:

Transfer Data Piece By Piece via Bluetooth or Wi-Fi Direct

When you have two different phones, for example, a Samsung phone and a Huawei phone, and you don't have any USB cables on your hand, there are two wireless options that you can use to transfer data from one phone to another; namely Bluetooth and Wi-Fi Direct. These are two services that are available on almost every smartphone nowadays and make it every easy to transfer data from Samsung to Huawei P20/P30/P40(Pro).
Bluetooth Transfer:
Step 1 : Go to the settings on your phone and switch on the Bluetooth option. You will mostly find it below the 'Wi-Fi' option. Switch on the Bluetooth on both the devices.
Step 2 : Make your phone visible to all nearby devices by clicking on the checkbox beside your phone's name. In the meantime, scan for other devices in range using the second device and once it detects your phone click on it and you will get a message to enter a passkey on both the devices. Do that and you are now connected.
Step 3 : Now, all you have to do is simply select the file > Share > Bluetooth > Select the phone you want to transfer to; the phone that you have selected (and are connected with) will get a message about the file transfer request. Click on 'Accept' to get the file; the transfer is done. You can go through the whole process again to make more file transfers.
Wi-Fi Transfer:
Step 1 : From the settings of your phone, select Wi-Fi > Wi-Fi Direct and the phone will automatically start searching for devices with Wi-Fi Direct within range.
Step 2 : Click on the device you want to connect with and an invitation would then be sent and on successful acceptance, a Wi-Fi direct connection would be established. Once the connection has been established; just select the files and send them across in the same way that you would do while using the Bluetooth service.
However, please note that you will have to transfer data piece by piece. This is the major drawback of this service. Unlike Syncios Data Transfer you cannot transfer all the data or similar file types at the same time. You will have to again and again select the files and transfer piece by piece. If you want to transfer a single file or just a few photos or something similar, only then is this option recommended.
---

Solution 2:

One-click Transfer Data from Samsung to Huawei P20/P30/P40(Pro)

Many times, when we change our Android or iOS device to Huawei, lots of data contacts are not synchronous, especially in two different types of phones. At this time , we may think about how to copy our data more easily from old Samsung Galaxy to Huawei. With the traditional methods, it could be really time-consuming to transfer the data into our new huawei one by one. So, is there any useful method to help us migrate our contacts, videos, photos, text messages, calendar, music, apps, call logs and more from your Samsung Galaxy S4/S5/S6/S7/S8/S9, Galaxy note 3/note 4/note 5/note 7/Note 8, Galaxy A3/A5/A7/A8/A9, Galaxy J1/J2/J3/J5/J7 to Huawei P20/P30/P40(Pro)?

We higly recommend you use Syncios Mobile Transfer to directly transfer data from old phone to Huawei P20/P30/P40(Pro). The One-Click Data Transfer tool works for both Androif & iOS devices. It allows you to transfer all your data safely and easily, including contacts, messages, call history, photos, videos, songs, bookmarks, apps and so on.

Syncios Data Transfer
Syncios Mobile Transfer is a professional iOS & Android synchronizing tool, which enables your to backup or transfer messages, contacts, call logs, music, video, audio and other files between iOS & Android devices and computer with only few clicks or directly phone-to-phone transfer.
Backup phone data and restore in lossless quality.
One-click Phone-to-Phone transfer
Sync contents from iTunes or iCloud Backup to devices.
Sync iTunes Library to iOS/Android devices.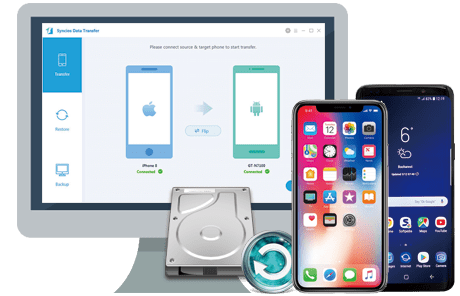 Phone Transfer, designed to switch data between two mobile phones, with which you can transfer contacts, messages, photos, videos, music, apps, music, bookmarks from Samsung to Huawei P20/P30/P40(Pro) easily. As long as your Android device is 3.0 and above version, it can move all data from Samsung Galaxy to Huawei P20/P30/P40(Pro) with only one click.
What's more,the Phone Transfer also allows you sync everything from iPhone, iPad, iPod Touch to Huawei. If you have backed up your old phone to other third party service,it can also help you restore backup from iTunes, iCloud to Huawei phone easily.
Step 1 : Install and Run Mobile Data Transfer
Connect your both your old phone and Huawei P20/P30/P40(Pro) to your computer and launch the Syncios Data Transfer (Regisiter). There are 3 modes: Transfer, Backup, Restore. Click the Transfer mode and go to Next.
Make sure your source phone is on the left side while Huawei P20/P30/P40(Pro) on the right. If not, click "Flip" to exchange the source device and target device.
Download
Win Version Download
Mac Version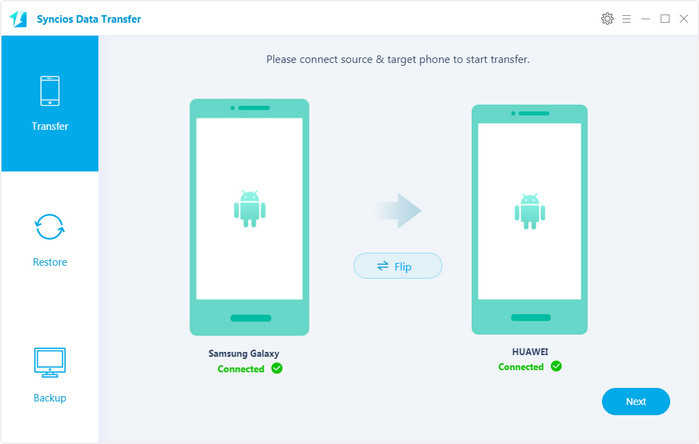 Step 2 : Transfer Everything from Old Samsung Phone to Huawei P20/P30/P40(Pro)
On the middle panel, check the data you want to transfer from old phone to new Huawei P20/P30/P40(Pro) as your will. Press the blue button "Next" and the details will be shown in the interface. After a while, all your files will be saved on your Huawei P20/P30/P40(Pro).
TIPS: any detection issues, please follow our FAQ here. Check the supported contents for Android-to-Android-transfer or iOS-to-Android-transfer here.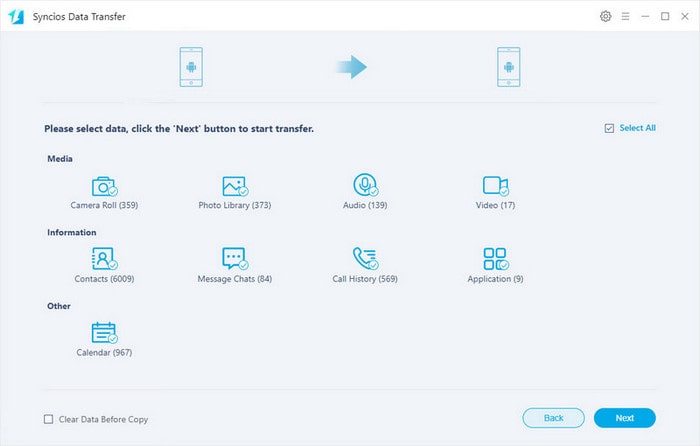 Summary: As you can see, Syncios Data Transfer gives you optional choices on Android to Android data transfer, including photos, music, video, contacts, messages, call history, applications and more. Simply 2 steps to migrate the data on Samsung to Huawei phone. Meanwhile, it works for other Android and iOS phones transfer like OnePlus,iPhone,iPad and iPod Touch. Right now, just get the free version to practice your real data transfer!
---
Related Tips & Tricks