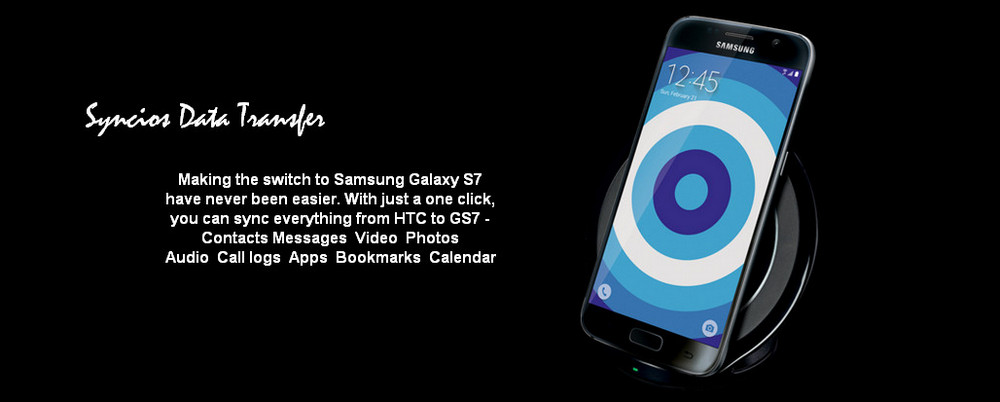 One of the pains of buying a new phone is having to transfer all of your old data. However, making switch bwtween two Android phones is not so difficult as you think. If you are going to switch from HTC to the new Samsung flagship phone - Galaxy S7/ S7 Edge, Anvsoft hopes to make it easier to transfer or remove everthing from your old phone to the new GS7 with its Data Transfer and sync Contcts, Music, Apps, Messges, Photos, Bookmarks, Videos, Calendars at one mouse click. Here's how to set them up:
Step 1: Install the HTC to Samsung Synchronizer
You must first download the Galaxy S7 to HTC Transfer Tool on your Windowds or Mac PC. Then, double-click the desk top icon to launch it .
Step 2: Connect your HTC and Samsung Galaxy S7/ S7 Edge to PC.
Now, you should see the homescreen of Syncios Data Transfer, For transferring data from phone to phone, click the first 'Start' button. It will bring your contacts, messages, photos, videos, music, bookmarks, calendar, call history and Apps to the Galaxy S7 Edge. Don't forget to connect your phones to pc with usb cables.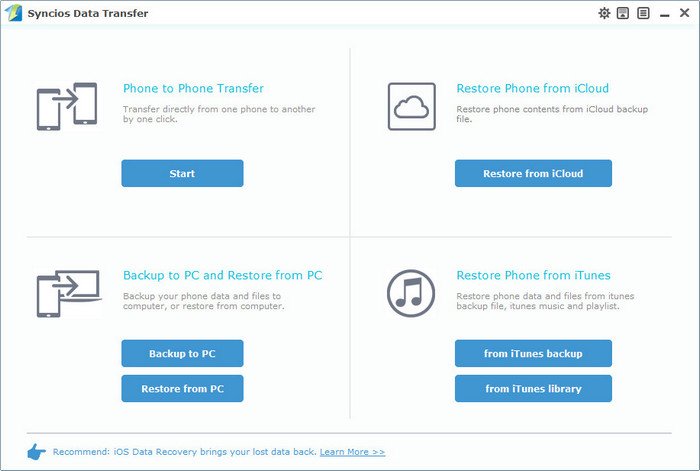 Step 3: Start copying data to Galaxy S7.
Once your phones is detected and recognized, all of data on the middle checkbox will be ticked automatically. For making a full transfer, you can simply click 'Start Copy' to remove everthing from old phone to the GS7. You can also transfer only contacts or Apps from HTC to Samsung Galaxy S7, by uncheck the other items.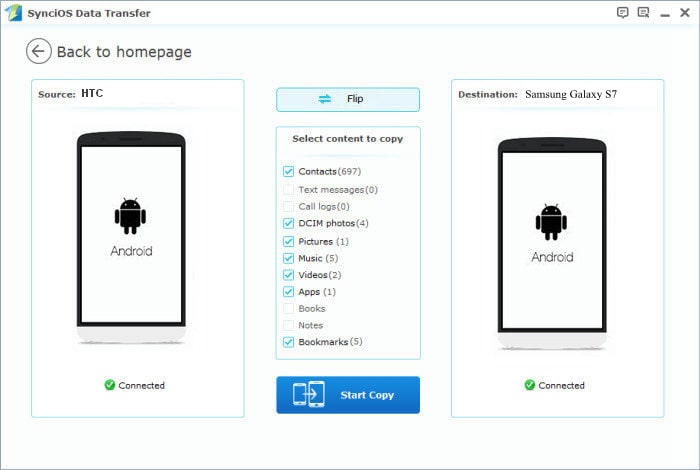 A progress bar will pop out. When it done, click on 'OK'. After few seconds, all of your iPhone contacts will be showed on your new Samsung Galaxy phone.
Tips: the program supports all brands of iOS and Android devices, iPhone 6s/ 6s Plus, iPhone SE, iPad, iPod Touch, HTC One M8/M9, HTC One Max; Samsung Galaxy S6, Samsung Note, Huawei, Google, Meizu, Moto, LG, etc. The free trial version supports transferring unlimited contacts between two devices.