How to Transfer Data from Android Phone to iPhone 11/ 11 Pro
The best iPhone in this year is the iPhone 11/11 Pro, mostly due to a full of package of slightly better antennas, a better battery, a higher-quality OLED display, that added telephoto camera and an 18-watt charger in the box. Attracted by these adorable features, many android loyalty switch their android phone to the newest iPhone 11 or iPhone 11 pro. Then when it comes to buying a new smartphone, you have to deal with a problem that how to sync the old but important data to the new phone. There must be many kinds of files stored in your android phone, and you want to reuse them in your new iPhone 11 at any time. To help you out, we are showing you 3 methods in this passage to migrate android data to iPhone 11/11 Pro at ease.
Want to sync your android contacts, messages, photos, music and social files to iPhone 11/11 Pro? Go and keep reading the tutorial below to figure out these puzzles. Before you get started, learn the difference between Syncios Manager and Syncios Data Transfer, then choose the method that's best for you. If you need an alternative method, you can try out both of them.

Method 1: Phone to Phone transfer data from Android to iPhone 11/ 11 Pro
Since the different features in Android and iOS system, some file formats are supported only by one side. It means that some files are available in android while they are not supported in iOS devices. Therefore, Syncios Data Transfer smartly read and extract the data supported in both operated system and then you can simply have a 1-click to transfer the data and files to the targeted platform.
Step 1 Firstly, please download and install Syncios Data Transfer on your Tablet/PC. When complete the setup on your Window PC or Mac, you can start to launch the program. Top functional options are listed on the interface, select Transfer to start today's task. If you have not updated the program to the latest version, please go to Menu >> Check for updates on the upper right corner of the homepage.
Download
Win Version Download
Mac Version
Step 2 Unlock your old android and new iPhone 11, and connect both 2 devices to the port of the PC or Mac. You can find a Syncios.Apk installation notification on the android screen, and just follow the guide to finish the setup. Make it clear that your android phone works as the source phone and iPhone 11 is the receiving phone. So for the correct position for the device, android is on the left and iPhone 11 on the right. If displaced, just click on 'Flip' button to alter their position. Moving forward to next step by tapping Next button.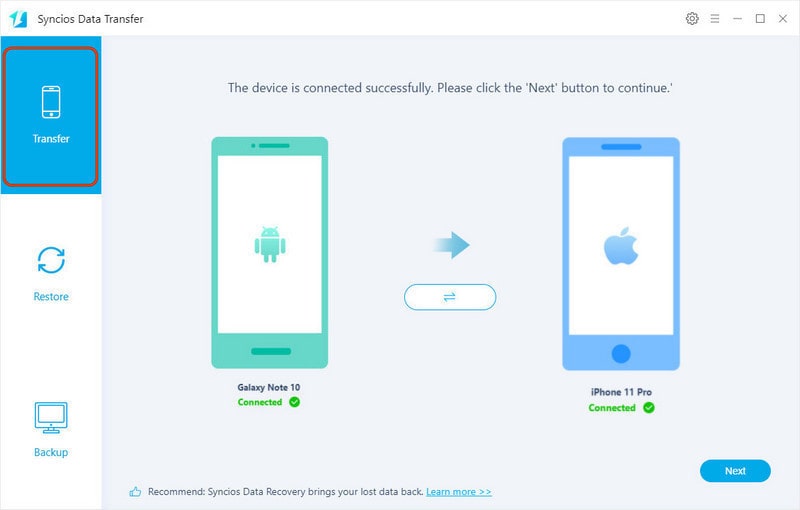 Step 3 Select the contents you value and then kick on the checkbox in front of the transferable type. If you want select all at one time, Select All button is offered to choose. No need to do more operation, Syncios Data Transfer starts to transfer the selected data to your iPhone 11.The whole transfer can take a while, resting on how many contents you're moving.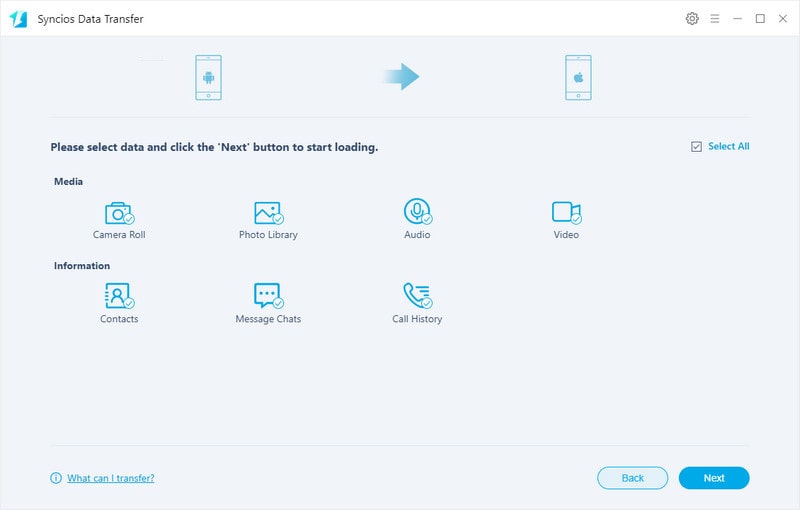 ---
Method 2: Selectively transfer specific content from Android to iPhone 11/11 Pro
If you prefer to transfer specific content from android to iPhone, you can choose Syncios Manager to help you separately transfer what you need and deselect those you dislike. With Syncios iOS & Android Manager, you are free to preview, edit, import, export, duplicate and delete the files stored on your smartphone. Syncios iOS & Android Manager is nicely described as the iTunes alternative, fully compatible with iOS and Android in high-performance.
Step 1Download and install Syncios Android & iOS Manager on your computer for free paid. Launch the install program and use USB cables to respectively connect your android phone and iPhone 11. It is required to unlock iPhone 11 and turn on the USB debugging mode on android phone. Once connected, Syncios will display the phone on the homepage.
With Syncios Manager, all the files on android and iPhone will be classified by several functional folders. For android, they are Apps, Contacts, SMS, Media, Photos. And for iPhone or iPad, they are Media (including music and video),Photos, Ebook, Apps and Information (including Contacts, Notes, Bookmarks, Call history, Messages, WhatsApp, Safari History and Voice mail)
Download
Win Version Download
Mac Version
Step 2Logical step is to back up the android data and then recover the backup files to iPhone 11. So the first is to arrange the android data backup. Select the android phone (Take Samsung as example) when it appears on Syncios. Let's enter the Contacts management under Samsung. Soon, the contacts details are showed. Before heading to backup, you can edit the contacts, de-duplicate those repeated and delete the useless contacts.
Step 3Checking on the corresponding contacts you want and then tap on Backup button. Carefully to choose the backup path for putting your data safely on computer. For you convenience, you can set up a folder named Contacts Backup on your computer in advance. And then tap on the instructional button to sync the data to PC.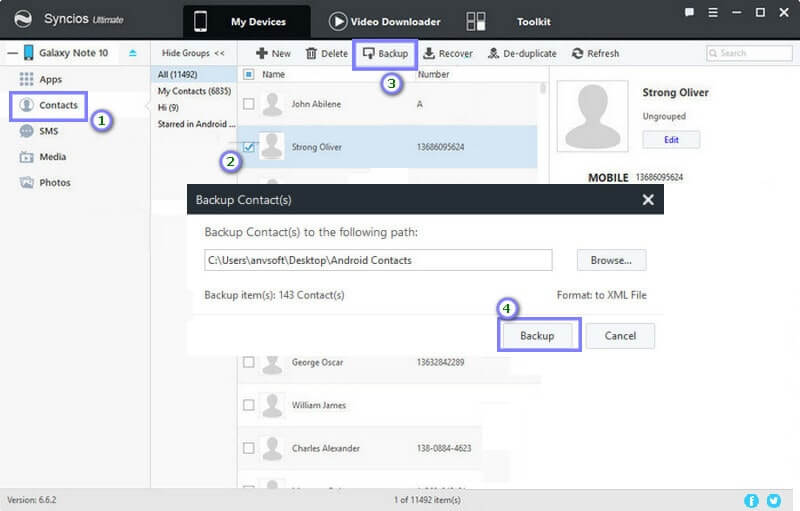 Step 4Now, you can easily to retrieve the backup files to iPhone 11. Guide to Information >>>Contacts option under iPhone 11 and enter the management page of this function. Click on Recover option on the menu bar. Syncios will detect the previous backup files on PC. So you just choose the backup files. To continue, tap OK and sync the data to iPhone 11.
OptionalFor files backup, options Export/Backup are the same functionality. For files recovery, options Import/Recovery/Add are the same.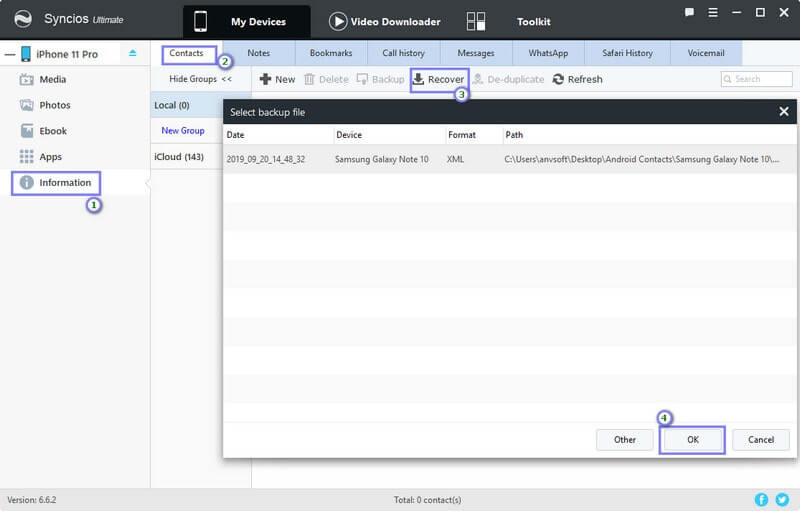 ---
Method 3: Wirelessly transfer data from Android to iPhone 11/11 Pro
If there is something wrong with your computer, you can use this method without PC. You can complete the whole process on your phone. Several things should be prepared before the real start:
Make sure both devices are well connected to the same Wi-Fi Internet. A weak Internet connection will cause interruption.
Go to Google Play on your android phone and then download Move to iOS application. It is no limited to any android phone.
Make sure there is enough available space on your iPhone 11 to store the contents that you are going to transfer.
Then let's go through the steps by Move to iOS app.
Step 1On your iPhone 11, tap App& Data >>> Move Data from Android.
Step 2 On your Android device, open the Move to iOS app and tap Continue. To continue, tap Next in the upper right corner of the Find Your Code screen.
Step 3On your iOS device, still tap Continue on the screen called Move from Android. Soon a ten-digit or six-digit code will appear. Enter the code on your Android device. Then wait for the Transfer Data screen to appear.
Step 4On your Android device, select the content that you want to transfer and tap Next. Then — even if your Android indicates that the process is complete — leave both devices alone until the loading bar that appears on your iOS device finishes.
Transferrable items include: contacts, message history, camera photos and videos, web bookmarks, mail accounts, and calendars.
Step 5Set up your iOS device: After the loading bar finishes on your iOS device, tap Done on your Android device. Then tap Continue on your iOS device and follow the onscreen steps to finish setup for your iOS device.
Step 6Last step: Make sure that all of your content transferred. Music, Books, and PDFs need to be moved over manually.

Ok, this article has showed you 3 different ways to safely transfer your data from Android devices to iPhone11/11 Pro. The first 2 methods make it possible for iPad users to migrate their Android data to their gadgets. We just can't wait to recommend the tips and tools to you! Need more step by step guides to set your mobile phone data and files, you can email Syncios Team at support@syncios.com. And If you know more cellphone how-tos, just share with us in the comment part. It is highly appreciated for your valuable suggestion.
---
Related Articles: