How to Transfer Contacts from Android to iPhone XR
If you have been an Android user for a considerable amount of time, you definitely wanna explore something new and more attractive, iPhone is one of such great option that you can try out if you are really that inquisitive. Just got a new iPhone XR recently, but don't know how to transfer contacts from old Android phone to the new iPhone? This guide will show you 3 easy but effective ways to transfer contacts from one Android device such as Samsung , HTC, Motorola, Huawei, LG, Oppo, Google, Sony, ZTE, Xiaomi etc to iPhone XR.
Way 1: Transfer Contacts from Android to iPhone XR in one click
Syncios Data Transfer is one of the best programs for you to import contacts to iPhone XR from Android in a single click, it not only transfers contacts but a wide range of mobile phone data including photos, music, text messages, bookmarks, videos, music, bookmarks, etc from your old Android phone to the new iPhone XR effortlessly. In addition, this professional phone to phone data transfer tool enables you to move data from Android to Android, iOS to iOS, iOS to Android devices. Plus, it lets you restore all of your iTunes or iCloud backup to iPhone. And , you are also able to backup all Android contents or synchronize iPhone files to PC and restore any time. Now, let's check out this one click data transfer solution.
Download
Win Version Download
Mac Version
Step 1 : Run Syncios Data Transfer
Run this Android to iPhone Data Transfer software, three modules on the program homepage will pop up automatically. Simply select Transfer mode on the main interface, then the program will turn to the Android to iPhone XR transfer window.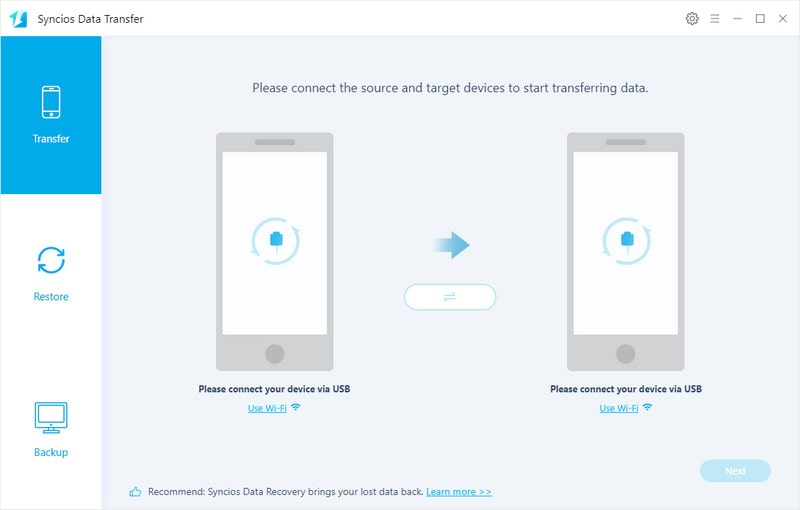 Step 2 : Connect Your Old Android Phone and iPhone XR to the Computer
Connect your old Android device and new iPhone XR to computer. You might need to enable  USB debugging mode on Android phone to allow Syncios to access it. Any other phone detection problem please click here: Android detection problem, iOS detection problem to help you out.
Note: Your old Android phone will be listed on the left side (source position) while the iPhone XR will be on the right side (target position). If no, you can change their position by hitting Flip button.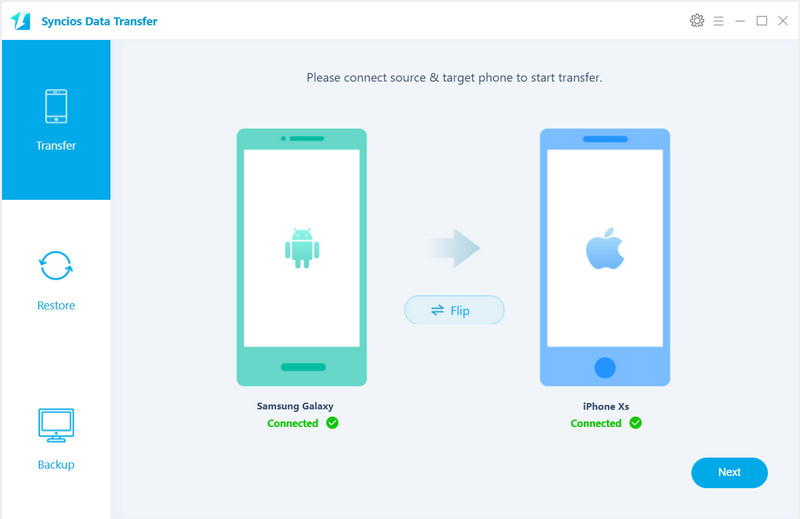 Step 3 : Transfer Contacts from Android to iPhone XR
Tap on Next button, you will enter into the Select data to transfer window. Just tick & load contacts After the program loaded the contacts successfully, click on "Next" button.
Now, you will get a prompt "During transfer, please do not disconnect either phone" from the popup Tips window, click "OK" to start the data transferring progress. After a while,, contacts would be fully copied from Android to your iPhone XR.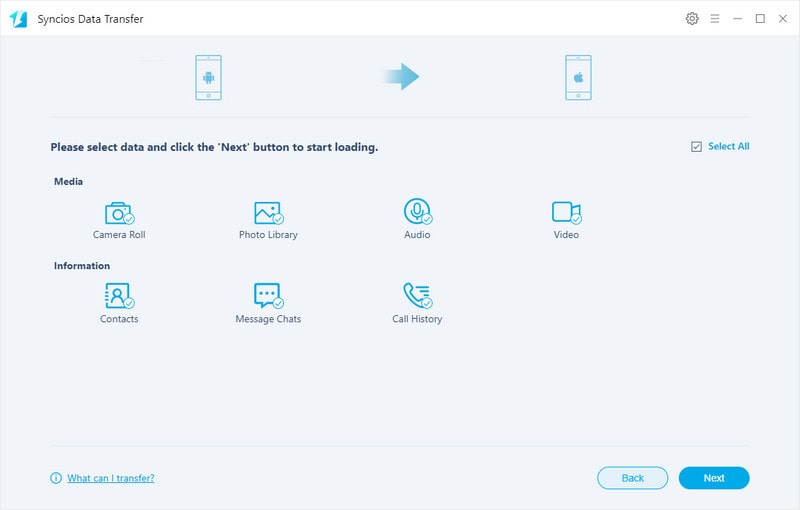 Supported OS: Android 3.0 to Android 9.0; iOS 5 to iOS 12.
Supported Files: Contacts, Messages, Video, DCIM, Pictures, Audio, Call logs, Bookmarks
---
Way 2: Transfer Contacts from Android to iPhone XR using Move to iOS App
Thankfully, Apple has a service that allows you to transfer data from Android to iPhone. This service is referred to Move to iOS app. It can help you migrate your content including Contacts, Mail accounts, Message history, Calendars, photos, videos, Free apps and Web bookmarks from your Android phone to iPhone XR automatically and securely. You can implement it by following these easy steps:
Note: Both of your Android phone and iPhone XR should be connected to the same Wi-Fi network.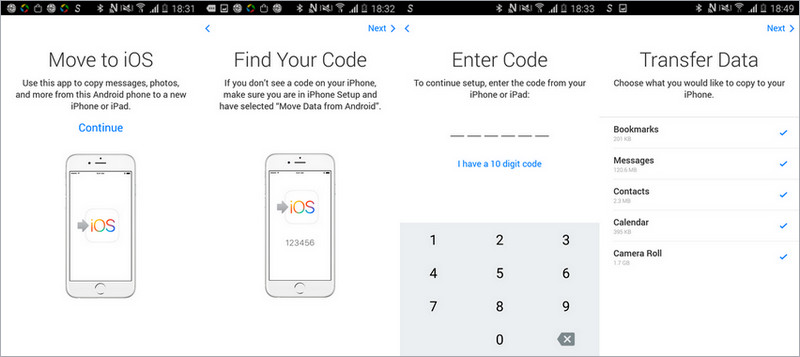 Step 1 : Download "Move to iOS" app from Google Play store on your Android device, install and launch it soon after.
Step 2 : After your iPhone connect to a Wi-Fi network. Search for the "Apps & Data" and select "Move Data from Android".
Step 3 : Open the Move to iOS application on your Android application, and click Continue. Read and understand the Terms and Conditions, choose "Agree", and then "Next".
Step 4 : On your iPhone XR, tap continues on the screen called "Move from Android". Then wait for a ten or six digit code to appear.
Enter the code that will appear on your Android device, and the "Transfer Data "screen will appear.
Step 5 : Choose Contacts as the data you would like to transfer and press "Next".
Step 6 : After the transfer is complete, press Continue on your iOS and Done on your Android.
Now, all contacts have been moved from Android to your iPhone XR.
Note: iOS will set up your default mail account and automatically add any free apps you already own. For paid Android apps, you can purchase them if they're available on the App Store.
Supported OS: Android 4.0 to Android 8.0 Oreo; an iPhone 5 or later running on iOS 9, iOS 10, iOS 11 and iOS 12.
Supported Files: Contacts, Mail accounts, Message history, Calendars, photos, videos, free apps and Web bookmarks.
---
Way 3: Transfer Contacts from Android to iPhone XR with Google Account
Alternatively, if you normally use Google's services, then you can sync contacts from Android to iPhone XR by implementing your Google account. To transfer contacts from your Android to iPhone XR using your Google account, follow these easy steps: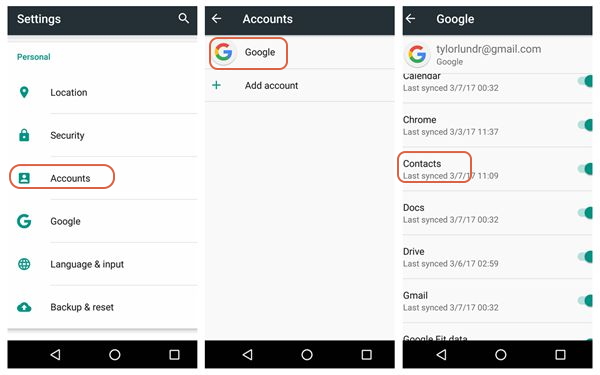 Step 1 : Sign in to your Google Account and from your Android device, back up all your contacts to Google account.
Step 2 : Once you are done with this much, add your Google account to your iPhone.
Step 3 : When the adding is set up, enable contact syncing.
Step 4 : If you are enabling syncing, and then go to "Settings".
Step 5 : Select "Mail contacts and Calendars". Now; tap on your "Google Account".
Step 6 : Slide the Contact slider to turn on mode which will make it appear green, and automatically all the contacts that you had added to your Google Account from Android will be synced to your iPhone.
Supported OS: No limitation.
Supported Files: Installed apps and accompanying data, call history, device settings, calendar entries, contacts, photos and videos, and, exclusive to Pixel phones, SMS messages
It is not difficult to find that contacts are one of the most important data you have on your phone, as they helps you to get touch with your friends, family, colleagues, and other people easily and conveniently. Therefore, transferring contacts from old Android to iPhone XR is very much necessary if your list of contacts is very large, and you simply cannot save them manually on your newly purchased iPhone XR because that would take a lot of time and energy. If you just purchased a new iPhone (including iPhone Xs/Xr/Xs Max and the old models), this tutorial offers you everything you want to know about transferring contacts from your old Android devices to iPhone XR. Simply select the one from these three methods you prefer and have a try.
Related Tips & Tricks