3 Steps to Transfer Data from iPhone XS to Samsung Galaxy Note 10
Samsung Galaxy Note 10 and 10 Plus are approaching, how far is iPhone 11? And more people are trading in their iPhones for Androids, and rivals like Samsung's Note 10 and 10 Plus are packed with an abundant amount of compelling features. Then sending data among Samsung devices is pretty straightforward, but data transfer from iPhone to Samsung could be hassle, especially the features of 2 different OS. Luckily I found an easy and fast way to transfer data between iOS and Android phone, including contacts, messages, photos, music and more. I'll walk you through basic steps to transfer data from iPhone XS to Samsung Galaxy Note 10 and 10 Plus.
Recommended: Data Transfer, iOS to Android, Phone to phone transfer, iPhone XS to Samsung Galaxy Note 10 and 10 Plus

Step 1
Simply download and install Syncios Data Transfer on your computer, Windows and Mac version are free to choose, it depends on which kind of computer and laptop you have on your own. Start to launch the program to make sure everything works smoothly.
The first step is to have Syncios Data Transfer recognize and read the data of Samsung Galaxy Note 10 or 10 Plus and iPhone XS, you should plug the USB cable respectively to computer to link both the program to devices. You will be required to enable USB debugging mode on your Samsung Galaxy Note 10 or 10 Plus when connecting any third-party tool. There would be a

Syncios Apk installation prompt on your Samsung Galaxy Note 10/10 Plus screen, just follow the tips and complete it. On the iPhone XS screen, you should authorize the computer program to access your phone by clicking on Trust.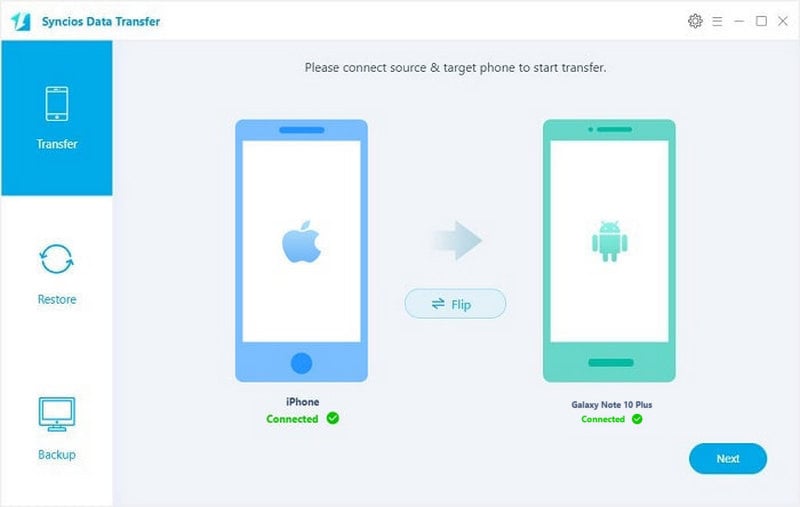 Step 2
Click on Next to straightly enter the detailed items transfer. For iPhone XS to Samsung Galaxy Note 10 or 10 Plus, you can one click to transfer contacts, messages, videos, DCIM, photos, call history and bookmarks to the target phone. Selectively kick on the checkbox or kick on the Select All button to lock items to be copied. Then to tap on Next to initiate the transfer.
Step 3
Final step is to check for the complete copy of the data. Stable link to the program will let the program flexibly access and interact with the Note 10's photos, contacts, music and more from iPhone XS.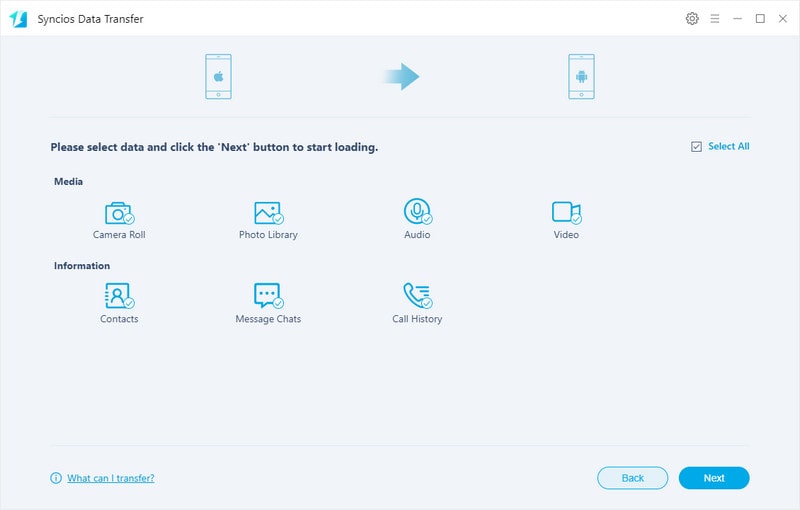 Situation 1: iCloud/iTunes Backup to Samsung Galaxy Note 10
Lost iPhone or forget iPhone password, and how to transfer iPhone data to Samsung Galaxy Note 10? Syncios Data Transfer can help to restore your iPhone data by logging in your iCloud or iTunes account.
Step 1: Come to Restore mode and connect Samsung Galaxy Note 10 to the program.
Step 2: iCloud/iTunes Backup >>> log in iCloud/iTunes >>> Select iCloud/iTunes backup file. Click on iCloud Backup functional block and then consecutively log in your iCloud account and password.
Step 3: Select the items to transfer to Samsung Galaxy Note 10
Complete the previous step, Syncios have successfully fetch the data stored in iCloud. And you can selectively to choose which content you are going to recover from. And finally kick on Next to transfer the target.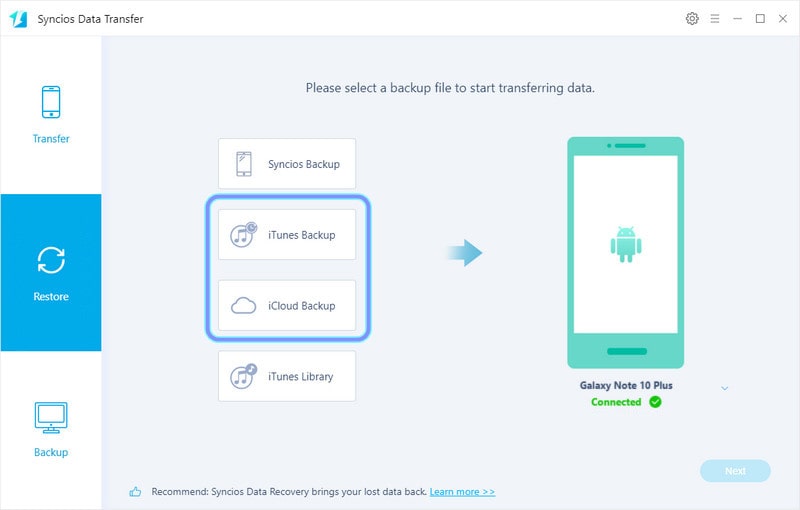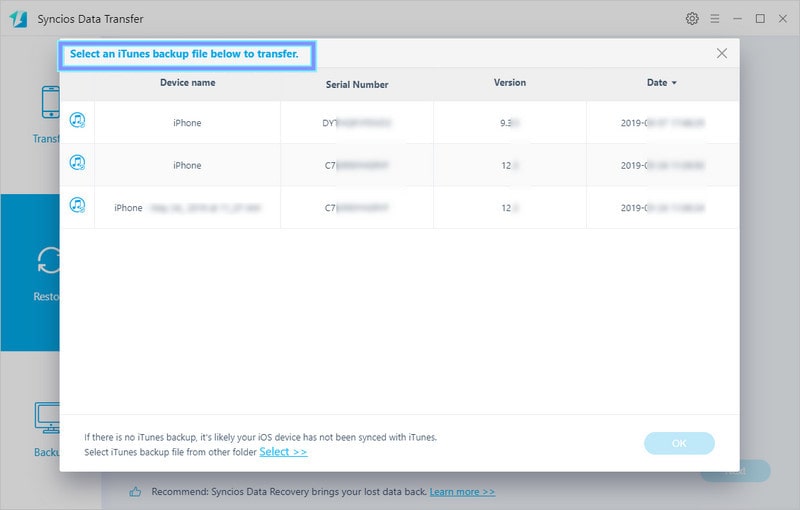 Situation 2: iTunes Music to Samsung Galaxy Note 10
How to transfer the iPhone music in iTunes to Samsung Galaxy Note 10 and 10 Plus?
Step 1: Coming here, we have taken good advantage of functional blocks under Restore mode. To restore iTunes playlist to Samsung Galaxy Note 10, here click on iTunes Library, where music backed up in iTunes will be loaded. You can preview the details of the songs before your transfer. And then kick individually on the songs you want to restore or you can have a bulky choice of the playlist.
Step 2: Click on the Next to start to transfer. It will soon migrate the music file to your target device soon.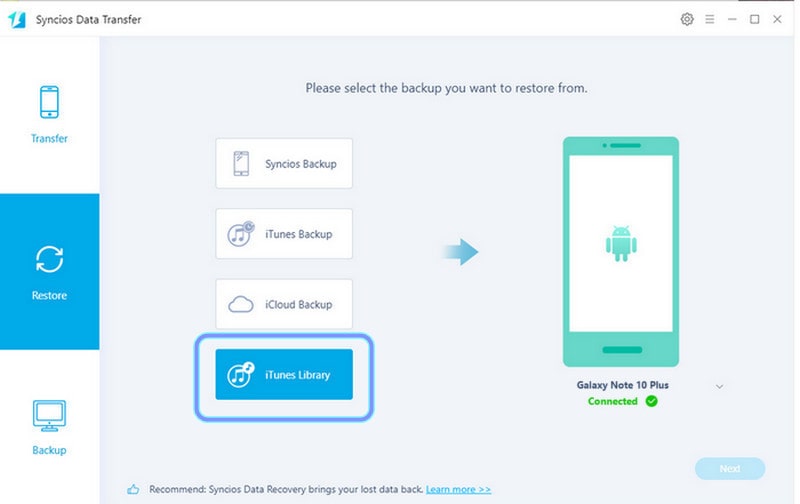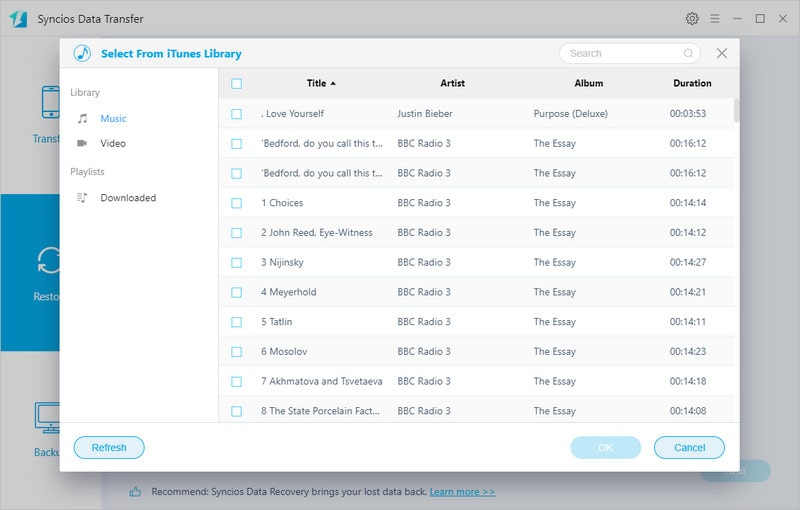 Ending: Whether you're on an iPhone, Android phone, Mac or PC, Syncios Data Transfer is an easy way to handle your phone data. It brings you convenience on mobile phone files transfer. And you would never be upset about the complicated steps in switching phones. In some way, it release the anxiety of data loss from your lost iPhone. Backup mode, program's brand new functionality, lets users to migrate phone data to computer. You should have a free try!
Download
Win Version Download
Mac Version
---
Directly learn from a video tutorial:
---
Related Tips & Tricks