How to Download YouTube Music, Video to Huawei Honor 20 (Pro)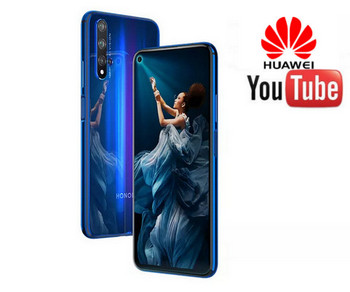 Huawei Honor 20 (Pro) is released in summer, 2019 when the new Android device sits at the top of the budget brand's range, featuring Huawei's flagship Kirin 980 processor, quad rear cameras, and side-mounted fingerprint scanners, all fronted by a large 6.26-inch display, complete with a hole-punch cutout for the front-facing camera. YouTube is a go-to for video, but it's also great for playing music -- like an official music video or playlist. While it's beyond frustrating when that Huawei Honor 20 (Pro) users carve for a free YouTube video downloader to their new belonging but they have no solution to it.
The possibility enabling video lovers to this trick may be assisted with a three-party tool. Syncios YouTube Downloader is actually a functional tool for mobile phone that gives you the option to directly convert the YouTube URLs to video on your phone or PC. Also, Syncios Video Downloader allows users to change the converted videos to display settings across all devices, including your phone, TV and computer.
---
Why Choose Syncios YouTube Downloader for Huawei Honor 20 (Pro)
Massive Online Videos for Free Download
Want to download a YouTube video to your iPad or Android tablet, so you can watch it offline? Syncios Android Manager provides an easy solution to download massive online videos and watch them on your iPad/iPhone/iPod/Android devices.

Supported to download videos from 100+ online video sharing sites and 4K UHD video, including YouTube, Facebook, Dailymotion, Vimeo, Metacafe, Howcast, Niconico and more.
Convert transfer downloaded video, audio to mobile phone in iOS or Android supported formats.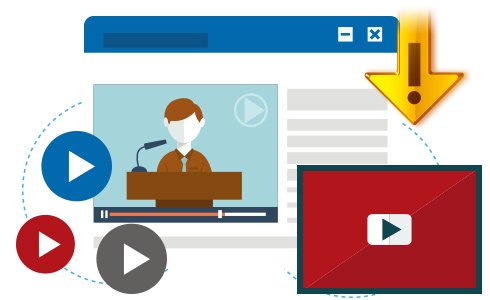 ---
How to Download and Transfer Video Directly to Huawei Honor 20 (Pro)
Step 1 Free download and install the Syncios Android Manager on your PC or laptop.
Step 2 Surf on the internet to the www.youtube.com and copy the URLs that you are likely to convert. This is the preparation for the source of the converter.
Step 3 Launch Syncios Android Manager and connect your Huawei Honor 20 (Pro) into the program via USB cable.
Step 4 Menu bar above, please go to 'Video Downloader' where we are going to work for the projects. Then you now notice the tips to paste the URLs to the input box below. If possible, you can drag and drop the video URL from Firefox, Chrome or other browsers.
For Syncios Android Manager Free users:
Step 5 Following is the options for the video to be converted. You are free to customize the quality ranging from Best quality for higher resolution to Smallest File for lower resolution. Lastly, tapping the three black dots on the right to select a path for saving the video on PC.
Step 6Click on 'Start Download'.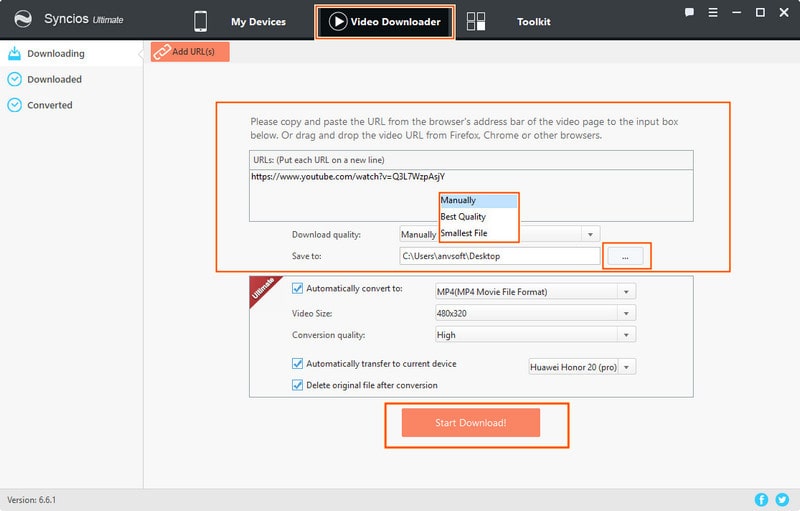 For Syncios Android Manager Ultimate users:
Chances are if you are going to watch the YouTube video on your Huawei Honor 20 (Pro) or minding the rudimentary video size, Syncios Android Manager Ultimate version can help to one-key select the best format and video size suitable for your Huawei Honor 20 (Pro). Therefore, we still follow the steps above until Step 4 and if you have upgraded the version, you will be guided to:
Step 5On the box with Ultimate on the upper left corner, you can select the video format compatible with the Huawei Honor 20 (Pro). When MP4 is for movie file, both M4V and MOV for video. Still, video size are 480*320 for the smallest and the 1920*1082 for the largest. And the same choice for the quality of the video can be Low-Normal- High.
Download quality: Manually, Best Quality, Smallest File.
Video Format: MP4 Movie File, M4V Video, MOV Video.
Video Size: Auto, 480×320, 460×480, 960×640, 1280×720, 1920×1080.
Conversion quality: Low, Normal, High.
Step 6Tag on Start Download to proceed when program will take seconds to analyze and download the targeted files.

TipIf you have mistaken the formats of the converted video, here is a functional toolkit 'Video Converter' available for the free and Ultimate users to correct to the suitable one. Flexible and versatile tools are built in the Syncios Android Manager. And if you are interested in this one, why not go and start the trip with Syncios?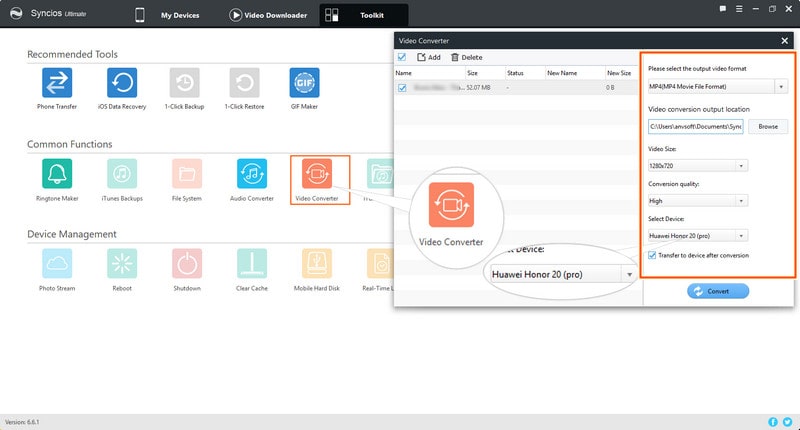 Supported OS: Android 3.0 to Android 9.0
Supported Huawei Devices: Huawei Honor 20/20(Pro),Huawei P30/P30(Pro), Huawei P20/P20 Pro, Huawei P10/P9/P8, Huawei Honor 7/8/9, Huawei 6P, Huawei Mate 20/10/Huawei Mate 9/Huawei Mate 8/Huawei Mate 7, Huawei Ascend G6, Huawei Ascend P6, Huawei Ascend Y200/Y300/P1/P2/Mate/D1/D2/G300/G600, Ascend X, Honor, Vision, Sonic, Boulder, IDEOS X3/X5, and all Android devices.
---
Related Tips & Tricks