How to Free Download YouTube Video to Samsung Galaxy Note 10/10+
More and more young people are likely to enjoy themselves by watching interesting videos on YouTube at home. It seems quite easy to watch these video with internet connected. However, it is a good idea if you get your favorite videos downloaded on your smartphone or PC , you will be free to watch videos offline at anytime and anywhere. When you find some really interesting videos, you can also share the video with your friend at once. This page is devoted to showing you how to download videos from YouTube to PC and cellphones (Samsung Galaxy Note 10/10+), and you can enjoy your videos at your convenience beyond the internet limitation.
Because people have different needs for video quality like size and resolution, selecting a professional YouTube downloader is critical. Syncios Free YouTube Downloader is an easy yet effective program for videos management. And it offers handy tools like Audio converter, video converter, ringtone maker, etc.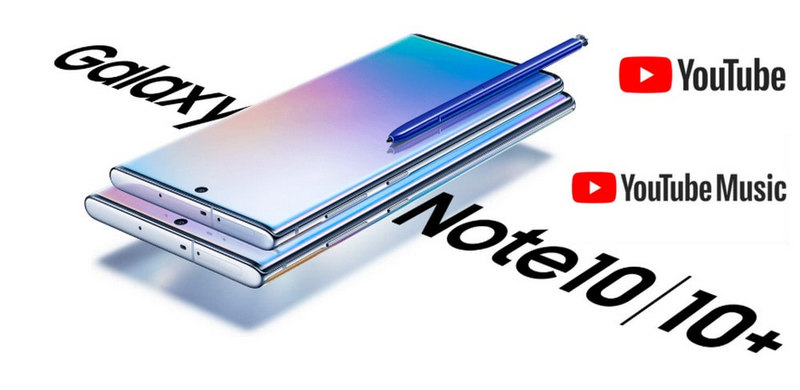 Download YouTube Video Directly to Samsung Galaxy Note 10/10+
As we mentioned above, Syncios Free YouTube Downloader is what you actually need. To let YouTube video play offline, here is what you need to do first: search for the YouTube videos that you want to download and then copy the video link from the browser's address.
Step 1 Free to download and install Syncios Free YouTube Downloader on your PC and update it to the latest version.
Step 2 Launch the program and connect your Samsung Galaxy Note 10/10+ to your computer. If a prompt asks for debugging mode on your device, follow the onscreen steps until Syncios.Apk is successfully installed. If you failed to connect to Syncios, learn what to do.
Step 3 Click on the pop-up menu at the top of the window, choose Video Downloader, where you can first to view the tips. So you firstly paste the previous video URL into the input box. If you want to put several URLs at one time, you should put each URL on a new line. Then please do one of the following:
Saving to PC:
Step 4 Select the video quality you want to download. (Manually, Best Quality or Smallest quality)
Step 5 Set up a folder on computer in order to store the downloaded videos to somewhere safe.
Step 6 Click on Start Download. You can let it download while doing other things. Download YouTube video while playing game yourself.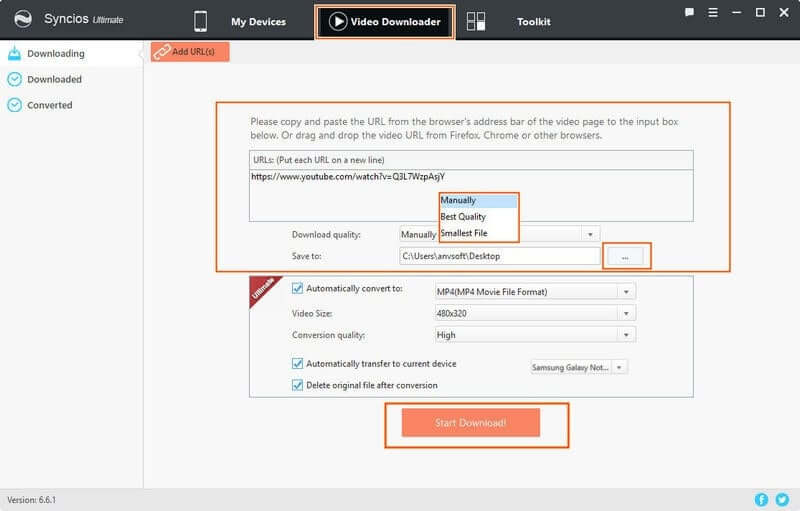 Saving to Samsung Galaxy Note 10/10+:
To let the YouTube videos automatically send to your Samsung Galaxy Note 10/10+, you need to register your Ultimate version key code.
Step 4 Stay in the Video Downloader interface, select the menu at the right corner and register by filling the key name and code to upgrade from free to Ultimate.
Step 5 Move to the Ultimate section and tap the video format that supports the video player on your Samsung Galaxy Note10. MP4, M4V and MOV movie file format are available, just select the best for you. Besides, the video size and conversion quality is customized settings. You are free to toggle the option that can be compatible with Samsung Galaxy Note 10/10+. ( Anyone of your cellphones)
Step 6 Hit Start Download to initiate the downloading process.

Want to make another backup to cellphone or PC ? You can:
Note If you have saved the downloaded video to PC, you can store the videos more than one device, but you can store to one device at a time. Go to Toolkit >> Video Converter tool and manually customize the video formats and back it up to your desired devices.
Conversely, if you have backed up the videos to your Samsung Galaxy Note 10, you can go to My Devices >>Media management on the left panel and then export the downloaded videos to PC.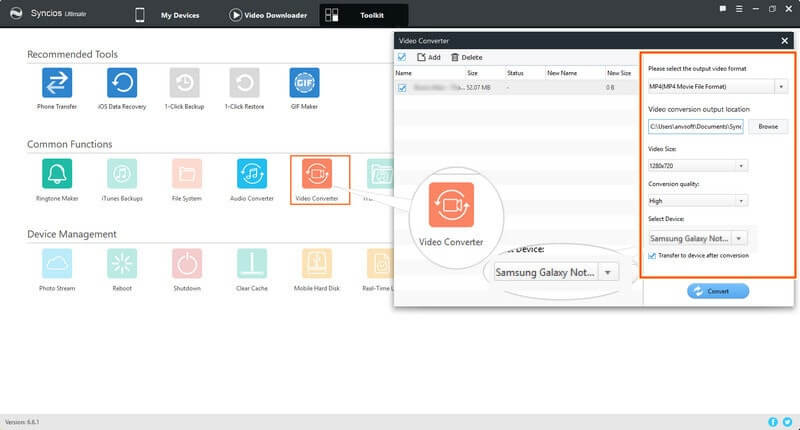 Plus,Syncios Video Downloader enables to download from 100+ popular video browsers. Get this handy tool on your computer and free to customize the format as you like. Not only helps manage your videos, but Syncios Manager can also assist to backup and recover contacts, messages, photos and music, etc. So, isn't it a good choice to have a special Syncios tool for your Samsung Galaxy Note 10?
Supported OS: Android 3.0 above
---
Related Tips & Tricks